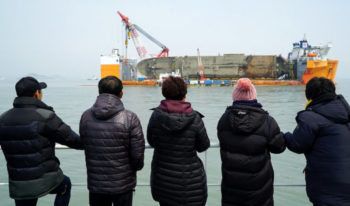 South Korea on Tuesday said forensic examination showed bone fragments found near a salvaged ferry that sank in one of its worst disasters three years ago came from an animal and not an unrecovered victim, as an official had said earlier.
Nine people remain missing from among the 304 dead, most of them children on a school trip, in the April 16, 2014 disaster after the Sewol, structurally unsound, overloaded and traveling too fast on a turn, capsized and sank off the southwest coast.
Earlier on Tuesday, Lee Cheol-jo, the official heading the task force of the Ministry of Oceans and Fisheries on the salvage operation, told a briefing that six pieces of remains found appeared to come from at least one unrecovered victim.
However, analysis by the National Forensic Service showed that seven bone fragments found came from an animal, the Oceans Ministry said in a brief statement.
Lee had said the fragments, ranging from 4 cm (1.6 inch) to 18 cm (7 inches) in length, appeared to have emerged through the vessel's windows.
The news comes as bereaved families and officials hope to find the last nine bodies still missing from the disaster, after the ferry was raised last week and loaded onto a semi-submersible vessel for a journey to a nearby port.
Weeping relatives attended a memorial service for the missing held near the vessel, where Catholic, Protestant pastors and Buddhist monks offered prayers.
"Eun-hwa, let's go home. Mommy will find you quickly. You should hang in there a bit to meet mommy," Lee Kum-hee, whose daughter Cho Eun-hwa is among the missing, said at the service, as she threw yellow roses into the sea in a tribute.
Of those killed, 250 were teenagers from the same high school, many of whom obeyed crew instructions to remain in their cabins even as crewmembers were escaping the sinking ship.
The botched rescue and toll of children in one of Asia's most technically advanced economies shocked and angered the country, with much of the ire focusing on former President Park Geun-hye and her administration at the time.
The ferry captain was found guilty of homicide in 2015 and jailed for life. More than a dozen other crewmembers received shorter sentences.
Copyright Ships & Ports Ltd. Permission to use quotations from this article is granted subject to appropriate credit given to www.shipsandports.com.ng as the source.