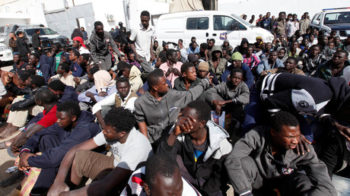 The number of illegal migrants passing through Bosnia to try to reach the richer states of the European Union rose sharply in the first nine months of 2017, a government agency said on Tuesday.
The Foreigners' Affairs Service said it had arrested 40 people in the past three days alone, on top of more than 600 since the start of the year – almost four times the number stopped over the same period a year earlier.
The agency did not give reasons for the increase. But state border police said that migrants blocked by toughened controls in neighbouring Serbia were trying alternate routes.
The migrants, who mostly come from Algeria, Afghanistan, Libya, Pakistan, Morocco but also from Turkey and Albania, will be deported either to their native countries or the countries where they arrived from, the agency said.
Illegal migrants have in the past entered the country from Serbia and Montenegro, paying hefty prices to human smugglers, and tried to get into EU member state Croatia.
Impoverished Bosnia did not see the record numbers of migrants that crossed into other EU states in 2015, most of them fleeing conflicts in Syria and Iraq.
Agency Report