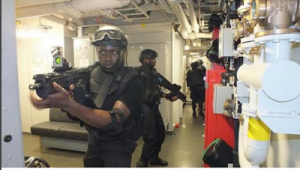 The Nigerian Navy in a special training exercise code-named: "Exercise Pouncer" on Tuesday deployed troops on board four warships and gunboats aimed at checking their combat readiness.
The Flag Officer Commanding Eastern Naval Command (ENC), Rear Adm. Victor Adedipe, disclosed this at the flag-off of the third quarter ENC sea exercise in Onne, Rivers.
Adedipe said that the two-day exercise was aimed at equipping troops with requisite skills while checking their combat readiness to tackle piracy and other criminality in the nation's maritime domain.
"The essence of the exercise is to train and improve personnel proficiency to work-up naval equipment, ship and helicopter that would be involved in the exercise.
"The training covers the entire spectrum of skills required for our officers and ratings to function efficiently as naval personnel.
"The training will see troops participate in seamanship, navigation and weapons handling with focus to deter criminality in the nation's maritime environment.
"Four ships and one helicopter will take part in the exercise while smaller crafts (gunboats) would operate at the backwaters," he said.
The flag officer said that the exercise would horn troops proficiency in maritime operation and test strategies without actual combat.
He said that the navy was desirous to putting an end to piracy, sea robbery, hijacking, illegal bunkering and crude oil theft, among other maritime crimes.
He said that the training exercise grouped into three phases – planning, simulation and practice – was part of many exercises and operations designed to checkmate illegality on the waterways.
"The planning phase led by the Commander of eastern fleet has been conducted while the simulation phase conducted at the Armed Forces Simulation Centre, Jaji, Kaduna, has also been concluded.
"The flag-off of the final phase of the exercise essentially is to physically practice the plans that were tested at the armed forces simulation centre.
"Although security on waterways has improved tremendously – what we are doing is to ensure that we still maintain credible personnel to enable economic activities to thrive," he said.
Adedipe said that the operation would be held in the nation's territorial waters, stressing that it would not be extended to the Gulf of Guinea.