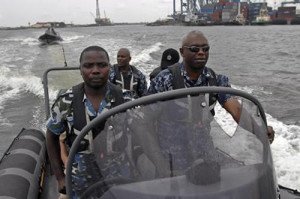 The Flag Officer Commanding (FOC) of the Eastern Naval Command (ENC) in Calabar, Rear Admiral Victor Adedipe, has pledge to weed out kidnappers that have held the Cross River State siege in recent times.
Responding to a question on securing the many creeks in Calabar, which most of the kidnappers are suspected to operate from, Adedipe said that they were going to ensure there is no hiding place for them.
"I assure you that within the creeks which we operate for whatever information we get as pertaining to any of those outlets we are going to weed them out," he said.
Adedipe, who was speaking after a familiarization visit to facilities of the Command in Calabar and Akpabuyo local government area said by his assessment, they would be able to sustain the high level of security on ground.
He said they would work with other security agencies to ensure peace is sustained.
Adedipe who had taken over the mantle of the Command from Rear Admiral James Oluwole two weeks ago had warned criminals under the area of operation to desist henceforth as Navy will not relent in ensuring they are brought to book.
The FOC said he was coming on board with fresh and renewed vigour to add value to the achievements his predecessor has put on ground.
"The constitutional mandate of the Nigerian Navy has not changed. Principally it is to ensure the protection of Nigeria's territorial integrity in the maritime environment and more importantly to protect the national strategic assets that are within the confines of the area of operational responsibility of the ENC. I can assure you that coming on board, one is coming on board with fresh and renewed vigour to add value to what my predecessor has done in furtherance of the strategic directive of the Chief of the Naval Staff to ensuring that peace is further sustained within the area and ensuring those who are planning and constantly attacking our national resources are put on check," he had said.
Facilities visited included the Nigerian Navy Secondary School, Akpabuyo; Atimbo Navy Barracks; Akim Navy Barracks; Nigeria Navy Reference Hospital; Nigeria Navy Primary School Ikot Ansa; and the Nigerian Navy Ship Victory headquarters in Calabar.