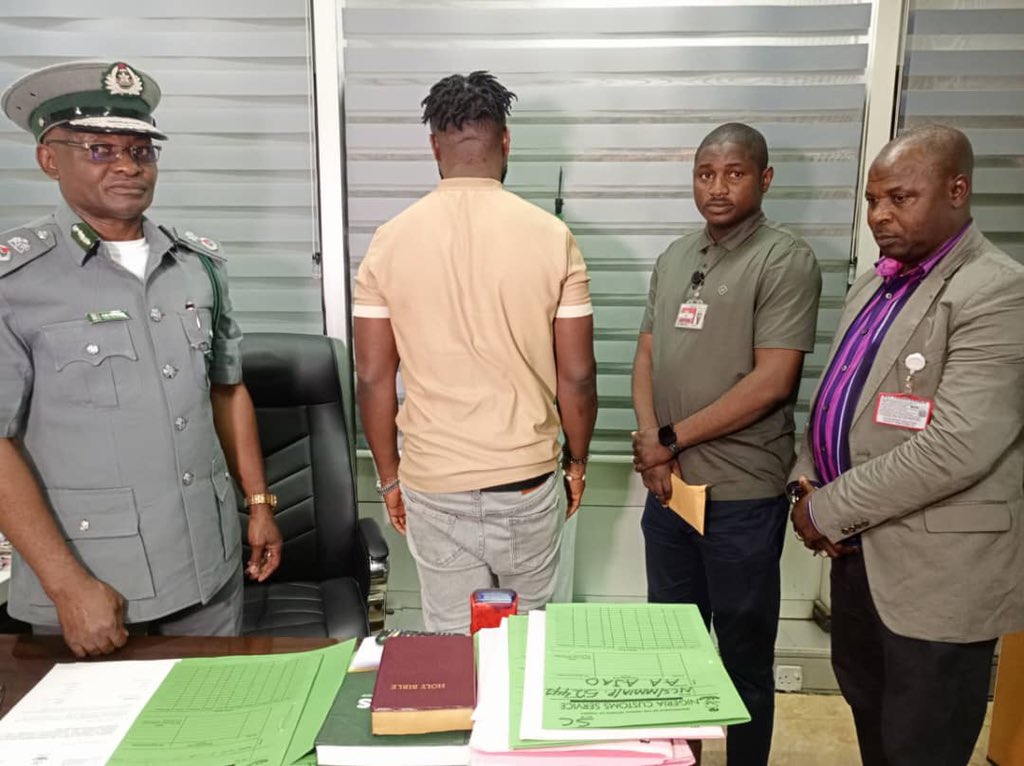 The Murtala Muhammed International Airport (MMIA), Command of the Nigeria Customs Service (NCS), has arrested a 41-year-old Brazil-bound passenger, Ifeanacho Ugbor, for being in possession of fake $10,000.
According to a press statement issued weekend by the command's public relations officer, Juliana Tomo, the suspect was arrested on 10th November 2023, for contravening the Money Laundering (Prohibition) Act of Nigeria.
According to Tomo, the Customs Area Controller, Charles Orbih, stated that the suspect was handed over to the Economic and Financial Crimes Commission (EFCC), for further investigation.
"Considering section 15 of the Money Laundering (Prohibition) Act, 2011 (As Amended) Act No 11, 2011 and Act No1, 2012, which entails the Money Laundering Offences, a passenger contravened a part of this section within our Jurisdiction. This passenger, named Ifeanacho Marcellinus Ugbor, is a 41-year-old Nigerian from Enugu State with a valid Nigerian passport No. B00033052 was scheduled to travel from Murtala Muhammad International Airport with the Ethiopian Airline (flight ET900) to Brazil on Friday, 10th November, 2023 was suspected to have contravened the Money Laundering (Prohibition) Act of Nigeria.
"The above-named suspect, having declared the sum of $10,000 USD on our Currency Declaration Form, our officers took a step further to examine the currency in line with section 66 of the Nigeria Customs Service Act 2023, and they (officers) discovered that the sum of $10,000 United States Dollars were all counterfeit. The suspect was refrained from travelling and detained for further investigation," the statement read.
"This achievement was as a result of due diligence of our officers. We have eagle eyes officers in this Command, they are ready to work 24 hours of the day and 7 days of the week combating all Customs related crimes and bringing to limelight the perpetrators.
"On Wednesday, 15th November, 2023, we, hereby, handover the sum of $10,000
counterfeited currency to the EFCC, the suspect, a valid Nigerian Standard passport No. B00033052, two phones and his baggage for further necessary action."
Copyright Ships & Ports Ltd. Permission to use quotations from this article is granted subject to appropriate credit given to www.shipsandports.com.ng as the source.