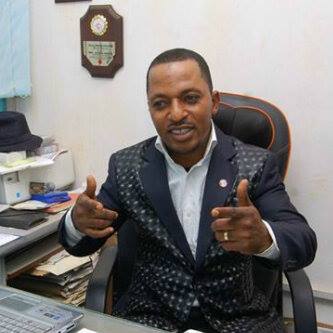 Chairman of National Association of Government Approved Freight Forwarders (NAGAFF), Murtala Mohammed International Airport Chapter, Mr. Oluwasegun Musa in this interview takes time to explain issues that surrounded the suspended eviction notice given to customs agents at the cargo section of the Murtala Mohammed International Airport. He blamed the situation on certain elements, who said mislead both the National Security Adviser and the Minister of Aviation. He spoke with Uju Ozoeze.
Excerpts: 
There is simmering tension between the Federal Airport Authority of Nigeria (FAAN) and customs agents operating at MMIA as a result of the authority's recent eviction notice to agents to vacate its premises, how do you think this tension can be eased?
Just as we said at the security meeting held last week, we are ready to catalogue intellectual discuss with them or in a way of finding a lasting solution to the existing problem. The problem, to quickly appraise it, is just limited to the issue of crisis and crowd control within the environment. We've been playing a vital role in ensuring that we reduce the crowd coming in here, within our own strength.
We also need government agencies to play their own role and we've been informing all relevant agencies that we are not responsible for the crowd within this environment. We are only responsible for only our members that are already hanging around under our canopies because most of the structures within this environment were destroyed by FAAN without giving alternatives. And the threat we are receiving now is that they want to flush everybody out of this environment which is unfair and unjust for people that are contributing so much to the revamping of the economy and contributing to the development of the economy for any agency of the government to paint them in such a scenario that they constitute nuisance within the environment whereas they contribute to all revenue within the environment.
These are the areas that we are looking for opportunity to dialogue with them. We are partners in progress; we are resolute and determined to look for a way forward. We are sure that once they give us the channel to dialogue, we will find a lasting solution that will be beneficial to both the government agency and the freight forwarders because the role we play here is that of a policy broker. We are the ones that actually set the benchmark for whatever the government policy is going to unfold. We not only contribute to generating revenue for Customs, we also generate revenue for FAAN.
Can you say that the measure taken by FAAN to evict agents from its premises is too strict?
 
I can say it is not flexible. If it is going to be flexible then it must have human face and the stakeholders must also be carried along. By the time one of the stakeholders that contributes to the pool of revenue is being short changed not to participate in the drive you are carrying out, definitely it is not flexible. Our major concern is that we don't want the government agency to treat us practitioners and stakeholders in the industry as if we are miscreants whereas we are major players in this industry. The cargo village we are asking for is nothing far away from the conventional standards and its part of a yardstick to measure advancement and development of every international airport all over the world and that is what we are trying to put across.
Is NAGAFF jointly pursuing this cause with the Association of Nigeria Licensed Customs Agents (ANLCA) because the National President of ANLCA is the only one seen to be representing and speaking for agents during the agents' meeting with FAAN?
We are working together as a team because it affects us all. The thing is that my president, Eugene Nweke, is attending a conference outside the country and that is why am standing in for him along with other national executives. The truth of the matter is that we are fighting a common goal; we are pursuing a common interest regardless of who is leading. We are fighting the same struggle and we are on the same pedestal.
Is it true that agents threatened to give FAAN a good fight if it makes good its threat to evict them from the premises?
No, we are responsible practitioners and responsible citizens of this country; we won't do that! The only thing we are looking at is to jumpstart a conflict resolution scenario where we will be called to a round table and things will be resolved amicably. The major problem we have has been that of break in communication. We have some elements working in government parastatal that are actually giving us bad name in the presence of the government, posing us as touts and miscreants.
What are these elements?
We have some of them as government agencies but for security reasons I won't mention names although they were mentioned at the security meeting at the airport. FAAN mentioned that they have some elements telling the National Security Adviser to the Presidency that we are miscreants, also telling the Minister of Aviation that we are miscreants! But in their own way of doing things, the regional manager of FAAN made it known to the minister and the national security adviser to the government that we are not miscreants and if the FAAN representative in his wisdom has done that we believe that the minister and the National Security Adviser should be able to read in between the lines that we have some people that are causing confusion.
As the NAGAFF chieftain in MMIA Chapter, can you separate your members from the supposed touts?
Within the environment we know we have about three associations involved in freight forwarding activities here. Like in NAGAFF we have an ID card with security that cannot be forged and every card carrying member of the association are corporate members. We only recognise corporate membership not individual. You can only be a member of NAGAFF if you belong to a company; this is the measure we use at the airport. We don't have individual independent agents at the airport; you must belong to a company before you operate. We register corporate bodies and give ID card to their members and we have our data banks. Aside that we are also working on the biometric ID card, am sure that NAFFAC and ANLCA are also working on it. The ID cards will be coming out by July; the existing ones will be expiring by June. We are coming with a different security ID cards just as a way of supporting government policy on crowd control within the environment. And each time we come out with our new ID cards we normally give samples of the cards to all the security agencies within the airport environment so that when they are doing their checks they can easily compare to know which one is fake and which is genuine.
Is the national headquarters of NAGAFF aware of the biometric ID card about to be introduced?
Sure!
Copyright Ships & Ports Ltd. Permission to use quotations from this article is granted subject to appropriate credit given to www.shipsandports.com.ng as the source.