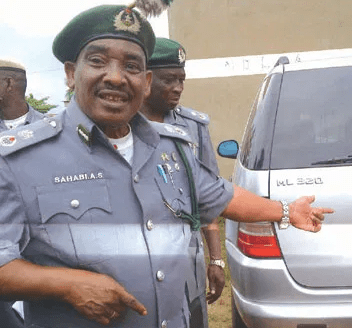 Customs Area Controller, Seme Area Command of the Nigeria Customs Service (NCS), Comptroller Sahabi Abubakar Sadiq, in this chat with journalists, presents the command's scorecard between January and June this year. Ewomazino Akpor was there for Ships & Ports Daily.
Excerpts: 
Revenue profile
Revenue is very important to every nation as it is bedrock upon which nations hinged their developmental plans. The government has consistently emphasized the need for diversification of our sources of revenue away from the hydro carbon. In terms of major sources of Government revenue in Nigeria, Customs Revenue rank next to revenue from crude oil. In line with the comptroller General of Customs Six-point Agenda. We, at Seme Area Command are doing everything professionally possible to collect and account for government maximum revenue as much as possible.
In the period under review, we collected the sum of N3,319,490,578.00 in contrast to the sum of N2,759,359,775.20 collected from January to 30th June, 2011. Though this signifies an increase in revenue collection however, we are not satisfied as we are working assiduously to meet out half year revenue target of N4.2 billion. It is worthy of note that this Command's highest monthly revenue collection in recent history was collected in the Month of May2012. This command collected the sum of N997,585,453.37 in the said month and our zeal to collect much more remains unquenchable.
Anti-smuggling drive 
The commands anti smuggling strategies are working actively as increasing number of people are turning away from smuggling to legitimate trade: We employ the persuasive principle of public sensitization and enlightenment , with coercion (as a last resort) in our anti-smugg ling campaign. We count on t he support of the mass media to widen the scope of this anti-smuggling model. In accordance with the foregoing, the command made 92 seizures with a Duty Paid Value (DPV) of N46,321 ,992.00, in the period under review. Out of t he 17 suspects arrested within the period, 7 have been convicted by the courts, while the other cases are at various stages of investigation and prosecution. Comparatively, the statistics of seizure aforementioned fell short of the same in corresponding period last year, 2011. The Command made a total of 306 seizures with a DPV of N340,194,783:00 in the corresponding period last year, 2011 . The comparative difference underscores the viability of the model as erstwhile deviants now engage in legitimate trade. This among others account for the improvement in our revenue collection.
ECOWAS Trade Liberialization Scheme
 
The ECOWAS Trade Liberalization Scheme (ETLS) is an instrument designed by member states of ECOWAS to facilitate sub-Regional trade and integration. Unfortunately, there had been a lot of misconception of what the scheme is all about. In one instance, a writer from one of the magazines misconstrued our declaration of revenue loss to embezzlement by the Customs. It is laughable you may want to say, but it was published. In the light of this observation, we initiated steps to allay public fear and misconception by re-emphasising the routing of ETLS goods through the Scanner and anyone with questionable data would be subjected to 100% Physical examination. During the period under review, trucks of ETLS compliant goods with a CIF Value Of N4,177,118,680.01 were cleared in this command. The revenue loss as a result of the scheme's concession amount to N1,176,786.072.41 while the 1% CISS (Revenue) amount to N37,554,018.00.
Export
Due to the Federal Government policies aimed at boosting the export of made in Nigeria goods and foreign exchange earnings, the export section has not been revenue yielding. Our export section facilitated the export of made in Nigeria goods with within an FOB value of N3,567,538.393.61. The NESS Collection with the period amount to N17,786.120.34.
Trade facilitation
Pursuant to trade facilitation, this command is compliant to paperless trade transaction goal to enhance free flow of trade. The Information and Communication Technology (ICT) and scanning System are also functional. It will interest you to note that many of our personnel had been trained and more are being trained preparatory for the eventual take over of the system. You may have also observed as well that only two customs checkpoints are operational along the Seme- Lagos highway. These are Iocated at Gbaji and Agbara.
Relationship between Nigeria Customs Service and other security agencies at the border
The Commands relationship with the surrounding communities, other Nigeria Security Agencies and Benin Security Officials has an all time high rating. There is no better time to maintain such cordial relationship and synergy than now for the security of the nation and our international guests. We are using this medium t o send a stern warning to all trading deviants, that they will not escape the strong arm of the law as we are ever ready for them.
Copyright Ships & Ports Ltd. Permission to use quotations from this article is granted subject to appropriate credit given to www.shipsandports.com.ng as the source.