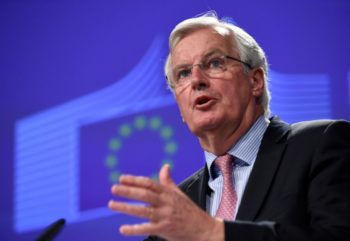 By Jite Eriabie 
The European Union's chief Brexit negotiator said Britain's plans for a special border arrangement with Ireland after it leaves the EU were unacceptable.
"The UK wants the EU to suspend the application of its laws, its customs union and its single market at what will be a new external border for the EU, and the UK wants to use Ireland as a kind of test case for the future EU-UK customs relations. This will not happen," Michel Barnier told a news conference in Brussels.
Barnier said that what he had seen in the British paper on Ireland and Northern Ireland worried him. A solution had to be "unique" and would require flexibility from both sides, he said.
In a document published on Thursday, the EU insisted that the "onus to propose solutions" on Ireland fell on Britain.
Alongside the paper on the Irish border, the EU also published documents to detail its negotiating position on customs, intellectual property, data protection and public procurement.
The new releases bring to 14 the documents made public by the EU on its stances in the divorce talks with Britain.
Barnier said all these papers concern negotiations on Britain's departure and do not include issues on future relations and a trade deal which will have to be addressed in new talks.
"The earlier we will see sufficient, concrete progress, the earlier we will begin discussing in parallel of a possible transition period and, if Britain wants to, of our future relation," Barnier said.
Britain would prefer starting talks on a future relationship as soon as possible.
Barnier also repeated that the European Union was ready to accelerate the pace of talks, and urged Britain to change its position on the Brexit bill to break what is seen as a stalemate in the negotiations.   
Copyright Ships & Ports Ltd. Permission to use quotations from this article is granted subject to appropriate credit given to www.shipsandports.com.ng as the source.