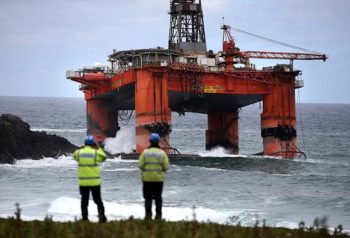 By Jite Eriabie 
Poor condition of the towline, inclement weather and the lack of storm contingency plan led to the grounding of semi-submersible rig Transocean Winner in August 2016, UK's Marine Accident Investigation Branch (MAIB) informed.
The towing manual, which was provided to the Dutch-registered tug ALP Forward, which towed the rig, as well as to Transocean and Aqualis, failed to provide the information necessary to safely complete the tow.
MAIB said that the manual "did not contain any contingency plan for adverse weather or refer to suitable shelter or heave-to areas. Furthermore, no ports of refuge had been identified for the north-west coast of Scotland." 
Additionally, there was no explicit instruction to the ALP Forward's master to inform ALP in the event that the weather took control of the tug and tow.
To remind, Transocean Winner grounded on the Isle of Lewis following the loss of tow from the ALP Forward. The tug and tow was on passage from Stavanger, Norway to Valletta, Malta when it encountered severe weather west of the Hebrides.
The effect of the wind and waves on Transocean Winner led to the loss of ALP Forward's ability to control the direction and speed of the tug and tow. After being dragged backwards by the tow for over 24 hours, the tow line, weakened by the repeated sudden loadings, parted and the tug was unable to pick up the emergency towline. 
Copyright Ships & Ports Ltd. Permission to use quotations from this article is granted subject to appropriate credit given to www.shipsandports.com.ng as the source.