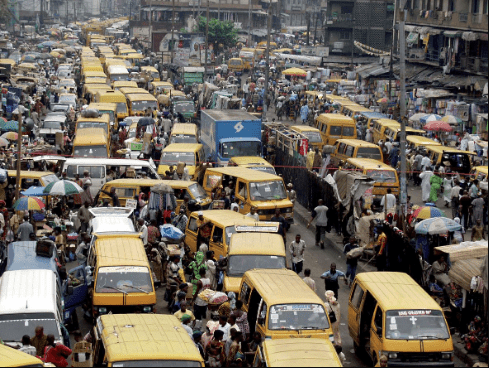 Lagos, Nigeria's commercial hub, loses about N4 trillion annually as a result of traffic congestion.
This was contained in a report released by Lagos-based Danne Institute for Research.
The report titled "Connectivity and Productivity Report" explained that the amount is derived from the culmination of estimated 14.12 million hours lost by Lagosians while commuting to work every day.
Presenting the findings of the research at a public-private sector dialogue recently, Executive Director of the institute, Franca Ovadje, said it was unfortunate that the growth of Lagos megacity is not leading to increasing productivity due to the state's connectivity issues.
"We found that the cost to individuals of traffic congestion is N133,978.68 per annum for those who own their vehicles and N79,039.40 each year for those who use public transport. The total loss to Lagos is estimated at 14.12 million hours per day or N3,834,340,158,870 per annum," she said.
Lagos State Governor, Babajide Sanwo-Olu, who was represented at the event by the Commissioner for Transportation, Frederic Oladeinde, said the state was adopting a multi-pronged approach as the government was convinced that the state could not spend its way out of congestion.
He explained the strategy of the government is to modernise and maximise existing transport networks and implement the Lagos transport masterplan that proposes investment in a multimodal transport system like waterways and seven rail lines.
Also speaking, the President, Lagos Chamber of Commerce and Industry (LCCI), Toki Mabogunje, suggested that the Lagos State Government agree on an operational framework with the Federal Government such that some federal assets such as roads and ports can be controlled and managed by the state to tackle congestion.
Shuts Yaba rail line for three weeks
The Yaba overpass will be closed temporarily from Tuesday February 9 to Tuesday February 23, 2021 for works on the proposed Lagos State red line rail project.
According to a statement by the Commissioner for Transportation, Frederic Oladeinde, the lane closure was necessary to commence soil testing along Muritala Mohammed Way, Ojuelegba Road (Tejuosho) as part of the traffic management plan to actualize phase one of the red line, which will run from Oyingbo to Agbado.
Motorists have been advised to utilize the main carriageway during the temporary closure.
Oladeinde, however, assured that traffic management personnel will be on the ground to direct traffic to minimize inconveniences.
"We urge residents of the state, especially motorists that ply these affected corridors to stay calm and cooperate with the interventions put in place to bring lasting solutions to transportation challenges in the State," he said.