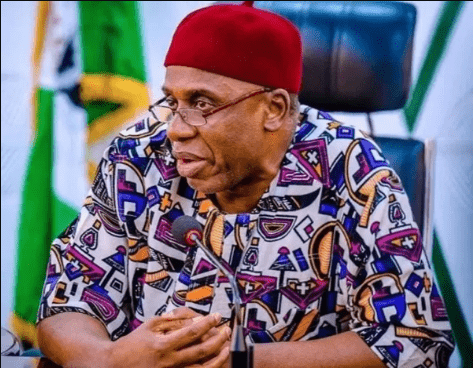 The Minister of Transportation, Rotimi Amaechi said the 284km Kano-Maradi rail line, when completed in 2023, would convey 9,364 passengers and freight approximately 3000 metric tonnes of cargo daily.
Amaechi disclosed this during the groundbreaking of the railway line linking Katsina, Kano, Jigawa with Maradi, Niger Republic. The project was flagged off virtually by President Muhammadu Buhari.
The project is being handled by Mota-Engil with a completion period of 38 months.
According to the Minister, the preliminary studies for the project started in 2012.
Amaechi said by 2015, the feasibility studies were completed indicating the viability of the $1.9 billion project.
"By 2015, the Ministry has concluded the feasibility studies for this route from Kano to Maradi and produced an Outline Business Case that attested to the high viability of this corridor for railway transportation. It was therefore listed among other prioritised railway and railway related projects," he said.
He said the project has a 25km extension to Maradi, Republic of Niger.
"The entire network of this project has 15 railway stations of different categories with major stations of approximately 3000 passenger capacity in the cities of Kano and Katsina and stations of standard categories in Kazaure, Daura, Jibiya and Dutse," he said.
The Minister stated that with the ongoing Lagos-Kano project, the nation is positioned to deepen railway transportation across the country while at the same time boosting the socio-economic development.
"There is no doubt that this route when linked with the ongoing Lagos-Kano railway project on completion will generate higher traffic volume and revenue," he stated, adding that the construction of the rail line will involve "local capacity and resources in line with the Presidential order on local content."
"Mr. President has approved the development of railway infrastructure and related projects that are of significance to the nation's socioeconomic growth and bring Nigeria's economy to become a key player in the region and globally.
"The objective is to establish railway network that is sustainable and strong to serve as a transportation backbone and open a new path to positive economic transformation," he said.
The Minister of Transportation in Niger Republic, Sadou Seydou said the project is important for both countries in strengthening transportation, economic development and peace and security.
He said the project would help Niger Republic in the development of transport infrastructure and facilitate movement of goods and services across the border.
"This project is also an important landmark in the good relationship between Niger Republic and Nigeria," he said.