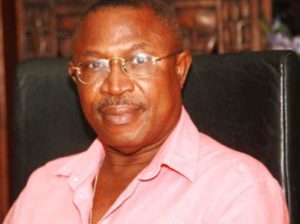 Former Director-General of the defunct Nigeria Maritime Authority (NMA), John Egesi has advised the federal government against floating a national shipping line without having a "supporting geographical location for a superior cargo".
Speaking with journalists at a forum in Lagos last week, Egesi said Nigeria should develop a national shipping line only on condition that there must be a consolidated government cargo that is carried exclusively by the national line.
According to him, floating a national shipping line simply to fly the Nigerian flag is not enough.
"Shipping exists for one single purpose and the purpose is to carry cargo. Without cargo, shipping is of no use to anybody. It is not an accident that all our shipping lines collapsed. If we want to establish a national shipping line in Nigeria as we proudly want to have it, its chance of survival is very low.
"I am not saying we should not have a national shipping line but it is important for us to look at the fact of what the implication of having one for a nation that has no ship would be. There are certain basic economic principles that cannot be wished away. What is important is we float a shipping line that will survive.
"The way to do that is to have what we call a consolidation of government cargo. When this is done there will be a contract in the purchase of it saying that this is the line that will carry this. We don't need to talk about FOB because that would have been written in the contract," he said.
"If this scenario is what we are going to depend upon, the only way we can deal with it is by having a government line but you know the problem of government line, it is favouritism. One of the things that killed the Nigerian National Shipping Line (NNSL)," he added.
Copyright Ships & Ports Ltd. Permission to use quotations from this article is granted subject to appropriate credit given to www.shipsandports.com.ng as the source.