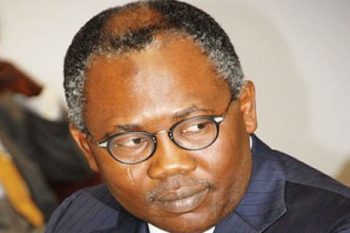 The Federal Government on Monday approached the Federal High Court, Abuja, to seek guidance on whether it could make an oral application for issuance of warrant of arrest against former Attorney-General of the Federation, Mohammed Adoke.
The warrant was in relation to charges filed against two multinational oil firms, and others including Adoke in connection to an alleged $1.1billion Malabu Oil scam
When the matter was called, counsel to the Federal Government, Johnson Ojogbane, told the court that the defendants were not in court because they were not yet served with court processes.
Ojogbane who is prosecuting for the Economic and Financial Crimes Commission (EFCC), said that he had been unable to serve them particularly Adoke because he was not in the country.
"We have been unable to serve the defendants in this case particularly the first defendant, because we have been told that he is outside the jurisdiction of this court; outside the country actually.
"So I will appreciate if my lord will guide me, because I actually wanted to make an application for a warrant of arrest, so I want to know if I can do that orally or come by way of a motion," Ojogbane said.
He maintained that the EFCC had powers to arrest anyone anywhere, but since Adoke was outside the jurisdiction of the court, they required a warrant of arrest to bring him into the country.
He said that if the court gave the order for a warrant of arrest, it could be endorsed to the International Police (Interpol ) who would begin the process of extradition.
The judge, Justice John Tsoho, however, said that such an application could not be brought orally before the court.
According to Tsoho, if he is already before the court and is attempting to escape trial, then the court could issue a warrant for his arrest.
"If he was already arraigned before the court and was trying to run away, then we can issue a warrant, but it is still under investigation, the court cannot make such an order. Tsoho adjourned the matter till June 13 for arraignment.
The EFCC in December 2016, charged nine suspects, including Adoke, over the purchase of OPL 245. Adoke was accused of illegally transferring more than $800 million, purportedly meant for the purchase of the OPL 245 to Dan Etete, Malabu Oil.
The Federal Government also on March 2, filed fresh charges against Shell Nigeria Exploration Production Company Limited and Agip Nigeria Exploration Limited for alleged complicity in the Malabu $1.1 billion scandal.
Adoke, Etete, Aliyu Abubakar, ENI Spa, Ralph Wetzels, Casula Roberto, Pujatti Stefeno, Burrafati Sebestiano, and Malabu Oil and Gas were charged alongside the two multinational oil firms.