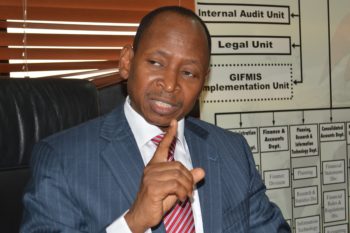 The Accountant-General of the Federation (AGF), Ahmed Idris, said the Federal Government, States and Local governments on Thursday shared N626.8 billion for the month of April.
Idris, made the disclosure in Abuja, while briefing reporters on the outcome of the Federal Account Allocation Committee (FAAC) meeting.
Giving a breakdown of the revenue accrued in March, he said N480.59 billion was received as gross statutory revenue, lower than N557.94 billion received in March by N77.34 billion.
Idris noted that the reduction in revenue was due to a decrease in the crude oil export sales by 13 percent when compared to 5.42 million barrels from the previous month.
He said, "The issues that negatively affected production were the Shut-ins and Shut-downs at various terminals for repairs and maintenance.
"This resulted in reduced revenue from federation crude oil exports sales by 33.58 million dollars.
"However, the average crude oil price increased from 63.08 dollars to 65.72 dollars per barrel.
"There was a considerable rise in oil royalty for the month, while Companies Income Tax (CIT) and Import Duty recorded marginal increases.
"Value Added Tax (VAT) decreased slightly but there was a significant drop in income from Petroleum Profit Tax (PPT)."
The AGF said N83.7 billion was received from VAT, showing a decrease of N5.74 billion as against N89.4 billion received in February.
Mineral revenue was N360.5 billion, indicating a decrease of N83.7 billion from the previous month, while non-mineral revenue was N120 billion, with an increase of N7 billion.
Idris said the balance for the Excess Crude Account (ECA), stood at $1.83 billion from $2.3 billion in the previous month.
The shared amount comprised the month's statutory distributable revenue of N480.5 billion, VAT of N83.7 billion and Forex Equalisation of N62.52 billion.
Giving a breakdown of the distribution, he said N263.1 billion was allocated to the Federal Government, N167.5 billion to states and N126.29 billion was received by the local governments.
Speaking on the issue of reconciliation of accounts with the Nigerian National Petroleum Corporation (NNPC), Idris said it was ongoing.
He said, "There is no public finance system that will be devoid of reconciliations at any time.
"So reconciliation is part of the order and in that particular instance, reconciliation that has started last month, continued this month and there is nothing new.
"We could not meet yesterday because we felt certain milestone has to be reached. On getting to those milestones, we sat today and have considered the figures for distribution.
"There was this gentleman agreement between FAAC and NNPC that whatever NNPC generates should be paid into the federation account and whatever expenses NNPC incurs, they should write to claim it.''
The AGF said as far as the operations of the NNPC was concerned, vis-a-vis the retirement of FAAC, these were issues being considered during the state level discussion and there would be reports when they had been sorted out.
He, however, said the amount being expected from NNPC after the reconciliatory process was not confirmed and would not want to speculate.
Idris said, "We do not talk on mere speculation or on hearsay, we have to wait for the amount to come and we pay to the last kobo.
"We know what will be distributed and that is accounting and that is public finance.
"We do not base our projections on speculations because there has to be factual data."