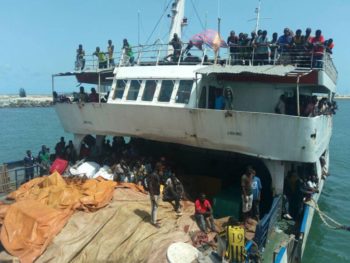 The Nigerian Navy has intercepted a vessel, MV CHIMBA EXPRESS, within the Lagos bar, with 406 West Africans on-board without clearance from port control.
The Commander, Nigerian Navy Ship (NNS) BEECROFT, Commodore Okon Eyo, disclosed to journalists that the vessel was billed to arrive in the Benin Republic, disembark passengers from that country, Togo, Mali and Niger before sailing to Calabar in Cross River to drop off Nigerians on-board.
He said it would be plausible to conclude that the vessel's agenda was to dump the passengers in Nigeria since it aborted the original passage plan.
Eyo said, "MV CHIMBA EXPRESS is a cargo/passenger vessel that regularly traverses parts of West and Central Africa through countries such as Benin, Nigeria, Cameroon, Sao Tome and Principe among others.
"The vessel departed Gabon laden with cargo, regular and deportee passengers of Togo, Benin, Nigeria, Niger and Malian nationalities. It was scheduled to arrive in Benin to disembark both regular and deportee passengers from Benin, Togo, Mali and Niger, and thereafter proceed to Calabar to disembark Nigerian deportees, regular passengers and their cargoes.
"However, in a twist of event, the vessel arrived in Lagos bar on April 25. The vessel had about 406 persons on-board from Togo, Benin, Niger, Mali and Nigeria.
"The total number of Nigerians on-board and whether or not the vessel did berth in Benin is yet to be confirmed, but will be determined shortly. Among the Nigerians are 18 deported returnees."
Although the vessel's charterer, Mubashiu Lawal, a Beninnois, had claimed they contacted port control for permission to enter Lagos, Eyo said the navy saw no evidence to that effect.
He said, "This was yet to be granted as at the time of their arrest and it was also gathered that the international passports of the passengers were with the agents, who claimed to be processing them.
"It was also obvious that there was no formal contact at governmental levels for the delivery of the deportees or returnees. However, there is an unconfirmed report that the Nigerian Embassy in Libreville was aware of the deportation."
Eyo said efforts were made to determine the history-trail of the vessel, using the Regional Maritime Awareness Capability (RMAC), which showed that it did not operate an active Automatic Identification System (AIS).
He said, "Additionally, the Maritime Mobile Service Identity (MMSI) obtained from the ship's documents indicates that it has no MMSI.
"When searched with the International Maritime Organisation (IMO) number, the vessel's identity was displayed as RAMADAN IV and classified as a passenger vessel registered in HONDURAS with a tonnage of about 677. This information about the class of the vessel and tonnage matched that of CHIMBA EXPRESS.
"MV CHIMBA EXPRESS' gross tonnage is about 677 tonnes. The international law mandates vessel of more than 350 tonnages to install AIS on-board, which shows it was operating in violation of the law."
The identity of the MV CHIMBA EXPRESS was also found to be mismatched with its registered name which was identified as RAMADAN IV.
But Nigerian returnees on-board the vessel accused the Gabonese government of maltreatment and hostilities towards them, claiming they were dumped with criminals for days without food nor water.
Among Nigerians on-board the vessel were 40 women and 10 children, who claimed they bought their tickets to return home as well as others who were deported for offences such as forgery, robbery and drug trafficking.