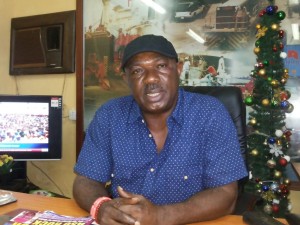 Founder, National Association of Government Approved Freight Forwarders (NAGAFF), Dr. Boniface Aniebonam has admitted that freight forwarders give bribe to Customs and other government agencies to clear consignment out of the ports.
Former Managing Director of Nigerian Shippers' Council (NSC), Dr. Kingsley Usoh while speaking exclusively with SHIPS & PORTS DAILY recently, had accused freight forwarders of incompetence and lack of professionalism in the discharge of their duties.
According to Usoh, "Most of them (freight forwarders) don't know their right from left. They only know how to bribe Customs."
Speaking in a chat with SHIPS & PORTS DAILY, Aniebonam said, "He is not far from telling the truth because there is no consignment you move out of the port without giving bribe.
"That is the truth and I am confirming that. I recall that during the former Comptroller General of Customs A.A Mustapha, a delegation was sent to the Customs headquarters to let him know that we are tired of giving bribe.
"Even though the emphasis has been on Customs but people don't know the chains of activities that go on within the port control before cargoes can finally exit the ports.
"You are to contend with so many players in the port including the police and other security agencies. It is all about giving bribe," he said.
He argued that the law which stipulates punishment for both the giver and the receiver in cases of bribery between an officer and importer/agent has not helped in fighting corruption in the system.
"The issue of giving bribe is in confrontation with the law so also the man who receives and I guess this is one of the reasons why we are finding it difficult to fight corruption in Nigeria because it is like nobody is being held responsible.
"My grouse is why conniving when you are on oath to cheat the same government you are to protect?
"What a business man wants is how to maximise his profit and as such he looks for an opening as short cut to the process with a view to maximise his profit. This is the mindset of a businessman and the government is very much aware and that is why the government has asked its agents to go and protect them. So I consider this on the part of government agencies as not being loyal," he said.
He advised government to take the welfare of Customs officers more seriously so that they will not connive to cheat the same government they have sworn under oath to protect.
Aniebonam also admitted that capacity building among freight forwarders in the sector has not been encouraged due to the crisis rocking the Council for the Regulation of freight forwarding in Nigerian (CRFFN), the agency saddled with the responsibility of professionalising the freight forwarding practice.
Copyright 2016 Ships & Ports Ltd. Permission to use quotations from this article is granted subject to appropriate credit given to www.shipsandports.com.ng as the source.