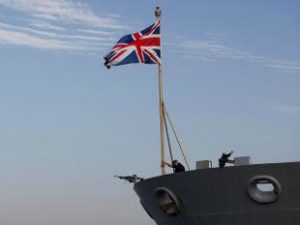 Britain needs to speed up shipbuilding for the Royal Navy and spread work more widely across companies and shipyards to help create jobs and ensure the future of the industry, an independent report said on Tuesday.
Britain's biggest defence contractor is BAE Systems, which together with its Clyde shipyard in Scotland will be the main beneficiary of the government's estimated 8 billion pound ($10 billion) order for eight new anti-submarine warships, the Type 26.
However, Britain should take a different approach for its next expected ship order of eight Type 31 frigates, John Parker, chairman of the government-commissioned National Shipbuilding Strategy, said in a report.
The ships should be built at shipyards across the country and in a more modular way to help speed up construction, encourage competitiveness and keep costs lower.
"Our investigation shows that probably the lowest cost and the fastest time of build (for the Type 31) can be done by building it in a distributed way across the country and also, of course, distribute prosperity and highly skilled jobs," Parker told BBC radio.
Shares in BAE Systems, which worked with other shipyards to manufacture Britain's two new aircraft carriers as part of a partnership with Babcock and Thales, traded down 0.2 percent at 1242 GMT, outperforming the bluechip index which was down 0.5 percent.
Parker, also chairman of mining giant Anglo American , said Britain should also make sure the Type 31 was suitable for export, to help provide a bigger market and a brighter future for an industry which employs about 25,000 people directly and indirectly.
He also said the government should speed up its ship ordering process and replace naval ships when required, rather than spending funds on prolonging the lifespan of older ships, to give taxpayers better value for money.
The government will fully respond to Parker's recommendations in Spring 2017.
A recent report by parliament's Defence Select Committee noted: "At 19 ships, compared with 35 in 1997, the Royal Navy's frigate and destroyer fleet is way below the critical mass required for the many tasks which could confront it."
Defence Minister Michael Fallon said in an initial statement that Britain's exit from the European Union made ensuring the future of the industry even more important.
"The themes of Sir John's report show where industry, working with Government, needs to invest in order to increase opportunities for the shipbuilding sector," he said. "It also means using our shipbuilding expertise to become a leading producer of ships for export. We must use the opportunities that Brexit provides to become a global trading power again."
Copyright Ships & Ports Ltd. Permission to use quotations from this article is granted subject to appropriate credit given to www.shipsandports.com.ng as the source.