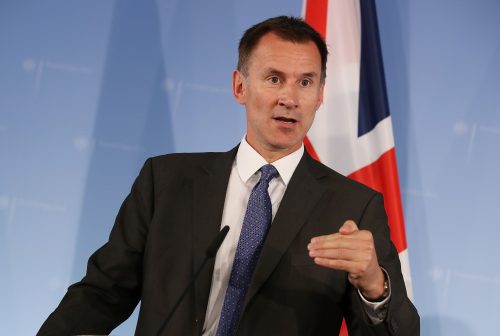 Britain on Monday said it was planning a European-led protection force for shipping in the Gulf after Iranian authorities seized a British-flagged tanker in a dramatic escalation of tensions in the region.
Foreign Secretary Jeremy Hunt made the announcement following an emergency ministerial meeting to respond to Friday's incident.
"We will seek to establish this mission as quickly as possible," Hunt said, condemning Iran's actions as "state piracy" while at the same time emphasising that Britain did not want confrontation.
The mission "will not be part of the US maximum pressure policy on Iran because we remain committed to preserving the Iran nuclear agreement," Hunt told parliament.
The United States pulled out of the nuclear deal last year.
The foreign minister also said a second warship that Britain has sent to the region would arrive by July 29.
In a dramatic escalation of tensions, the Islamic Revolutionary Guard Corps seized the Stena Impero on Friday in the Gulf's strategic Strait of Hormuz.
The move came two weeks after British authorities seized an Iranian tanker off its overseas territory of Gibraltar on suspicion of breaching EU sanctions against Syria against a backdrop of brinkmanship between Washington and Tehran.
Iran impounded the tanker after claiming it failed to respond to distress calls and turned off its transponder after hitting a fishing boat.
"Seizing the British tanker was a legal measure by Iran," a spokesman for the Iranian government, Ali Rabiei, told a news conference in Tehran on Monday.
However, Britain has said there was no evidence of a collision and said the vessel was in Omani waters, with its transponder switched on.
Hunt spoke to his French and German counterparts on Sunday.
The EU has already expressed its "deep concern" at the move, and on Monday, German Foreign Minister Heiko Maas said, "We don't want any further escalation."