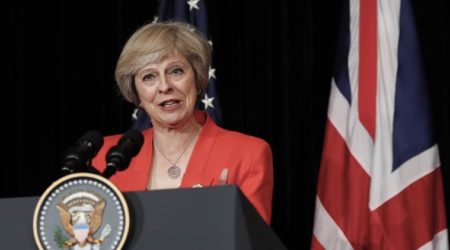 British Prime Minister, Theresa May, said on Tuesday the UK will use its international aid budget to boost its own interests while also seeking to deepen trade ties with Africa.
May's statement has countered critics who say aid funds would be better spent at home.
The Prime Minister, battling to unite her divided Conservative Party over her plan to take Britain out of the European Union, is visiting South Africa, Nigeria and Kenya on her first official trip to the continent.
In a speech in Cape Town, May said she wanted Britain to become the biggest investor in Africa out of the Group of Seven nations, overtaking the United States, by using the aid budget to help British companies invest on the continent.
The government has held out the prospect of increased trade with non-European Union countries as one of the major selling points of Brexit as it prepares to leave the bloc, currently its biggest trading partner, in March next year.
In April, Britain hosted a meeting of Commonwealth countries, including South Africa, Kenya and Nigeria, seeking to reinvigorate the network of mostly former colonies and drum up new trade amongst its members.
May recommitted to maintaining the overall British aid budget at 0.7 percent of economic output but said she would use it in a way that helped Britain.
"I am unashamed about the need to ensure that our aid programme works for the UK," May said.
"Today I am committing that our development spending will not only combat extreme poverty, but at the same time tackle global challenges and support our own national interest."
Britain's overseas aid last year was £13.9 billion ($18 billion). The budget has come under fire from many of May's own lawmakers, who say it is too high and should be spent elsewhere or in Britain itself.
May, who was accompanied by a delegation of British business executives, also said Britain would work with African states to tackle insecurity and migration by creating jobs.
"It is in the world's interest to see that those jobs are created, to tackle the causes and symptoms of extremism and instability, to deal ith migration flows and to encourage clean growth," May said.
According to the United Nations Conference on Trade and Development, British direct investment in Africa was £43 billion ($55.5 billion) in 2016, compared to £44 billion ($56.7 billion) from the United States.
Investment from France, which maintains close ties with its former colonies in West Africa, stood at £38 billion ($49 billion) and from China, rapidly becoming a major player in Africa, £31 billion ($40 billion).
Britain was South Africa's 6th largest global trading partner last year, with total trade at R79.5 billion ($5.6 billion), the South African president's office said.
Under the banner of creating a "Global Britain" Trade Minister, Liam Fox, a prominent proponent of Brexit, has cited International Monetary Fund research stating that 90 percent of global growth in coming year will be generated outside the EU.
Agency Report