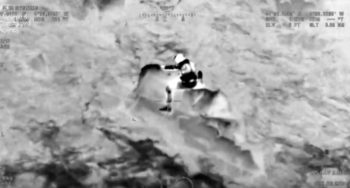 The UK Coastguard has released some incredible video showing the daring helicopter rescue of three people from rugged cliffs on the southwest coast of England.
The rescue took place Saturday morning in Bude, England when a person climbing on the cliffs became stranded by the tide.
Within minutes of receiving the alert, a Coastguard helicopter from Newquay was on scene to find the victim clinging to a rock. Two others who were trying to help the man were also stranded.
In the video filmed from the helicopter, Coastguard winchman Mark Hughes, aka 'Spike', got lowered to the victim when he was blindsided by a large wave. 
Even so, Spike managed to reach the victim and got the harness halfway on when they were both hit by a second wave, sending them into the water.
Still attached to the winch, they were hoisted out of the water but, realizing the harness was only around the victim's arm, Spike radioed the helicopter pilot to take them to the beach at the base of the cliff so they could secure themselves. All three victims were eventually hoisted to the helicopter.
"This video clearly shows what can happen when people are cut off by the tide but also the sterling job Spike the winchman did in the harsh conditions and rapidly changing situation to successfully rescue the casualties," said Captain Graham 'Sharky' Finn.
Speaking after the incident Alan Pickersgill, UK Coastguard said: "This incident could so easily have turned into a really tragic one. If you see someone in difficulty at sea or along the Coast please immediately call 999 and ask for the Coastguard. If you are going out for a walk along the shore make sure that you check the tide times – you will often see this information at the entry to beaches or check it online – and ensure that you are back in plenty of time."  

Copyright Ships & Ports Ltd. Permission to use quotations from this article is granted subject to appropriate credit given to www.shipsandports.com.ng as the source.