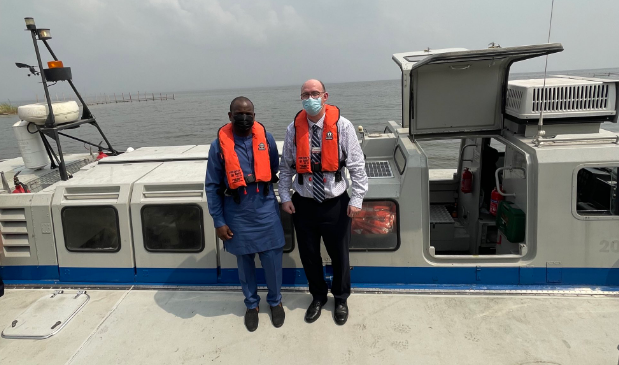 Recognising the urgency to tackle climate change by quickly reducing arbon dioxide emissions, the British Deputy High Commissioner, Ben Llewellyn-Jones and the General Manager, Lagos State Waterways Authority (LASWA), Oluwadamilola Emmanuel, have witnessed the demonstration of a hovercraft in Lagos on Friday.
Hovercraft, an amphibious boat-like vehicle that travels over water, sand and grass, can enhance waterways transportation system and help to reduce the chaotic Lagos traffic.
Griffon Hoverwork, a UK hovercraft design and manufacturing company, carried out the demonstration on Friday in Lagos, as part of the UK Government's effort to enhance water transportation system in the state.
A hovercraft can improve the climate resilience of Lagos state, contributing to sustainable and inclusive economic development in the city, the company said.
Speaking after the sea trial, British Deputy High Commissioner, Ben Llewellyn-Jones said, "The UK Government is keen to assist the Lagos State Government in the area of water transportation, and urban development. Griffon Hoverwork, a leading manufacturer of hovercrafts has displayed the capabilities of a hovercraft as a means of reducing carbon emissions and road congestion and supporting growth in the water transport sector."
On his part, the General Manager, Lagos State Waterways Authority (LASWA) Oluwadamilola Emmanuel, said, "The UK's Global Future Cities Programme with the Lagos State Government is helping to expand the state's waterways transport and improve the environment.
"Lagos waterways is a key resource to the state and we will continue to work with the UK government to make water transportation a viable, reliable and alternative means of transport for the people of Lagos."
In collaboration with the National Primary Health Care Development Agency (NPHCDA) and the Nigerian Navy, the UK have used medical hovercrafts to reach the remote areas of Delta in South-South Nigeria and the North East, providing healthcare to underserved communities.