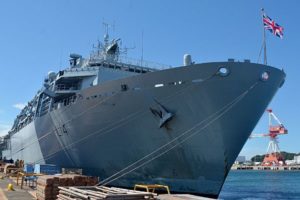 The British Navy's flagship amphibious assault HMS Albion, arrived in Tokyo on Friday extending Britain's naval presence in East Asia to four months.
This is as London deepens military ties in a region it considers vital to global security and economic prosperity as it exits the European Union.
The 22,000-tonne warship, the largest Royal Navy ship to visit Japan in 26 years, docked in Tokyo where it will conduct ship tours for the general public, Japanese officials, and defense industry executives. An on-board contingent of around 120 Royal Marines will train with Japanese Self-Defence Force troops including joint landings with new Japanese marine units on a beach near Mount Fuji.
"Our visit here is a testament to the global reach of the navy, a very global Britain and of course is aimed at building at our bonds with Japan," Captain Tim Neild, the Albion's commander, said at a briefing after his ship docked at a wharf surrounded by construction cranes building the athletes' village for the 2020 Tokyo Olympics.
As Asia drives global economic growth and Brexit approaches, Britain has sought closer economic ties with the region's biggest economy, China, but also deeper security ties with Japan.
With its ally the United States, Japan represents the strongest check on China's influence in the region, including its growing control over the contested South China Sea through the construction of island bases on submerged reefs.
Japan for its part wants to cooperate more with other potential allies beyond the United States as part of a bigger regional security role as Prime Minister, Shinzo Abe's government steps back from a post World War Two pacifist constitution that has barred the use of military force overseas.
London and Tokyo have been holding regular meetings between their foreign and defense ministers since 2015, and are also discussing cooperation to jointly develop new military kit.
At a press briefing before the Albion's visit to Tokyo, Paul Madden, the British ambassador to Japan, said the backdrop to growing cooperation was "the tensions on the Korean peninsula as well as wider challenges to the rules-based international system".
The Albion was earlier docked at nearby Yokosuka, which is home to the USS Ronald Reagan, the U.S. Seventh Fleet's carrier, and has patrolled waters around North Korea as part of operations to enforce U.N. sanctions meant to persuade Pyongyang to abandon its nuclear and missile programs.
The Albion, which replaced the British frigate HMS Sutherland, will hand over to HMS Argyll, another frigate, when it leaves East Asia around the start of next month for naval exercises in the Middle East.
Its journey west will take it through the South China Sea, a major waterway for sea-borne global trade that is claimed by China and in part by several Southeast Asian nations.
The United States has challenged Beijing's control there by sending war ships close to Beijing's island bases through seas it says must remain open to international traffic.
"The United Kingdom subscribes to the rules based system, as does Japan and many other countries, and we are committed to upholding that system wherever we operate on the high seas," said Neild when asked about China's maritime activities in the South China Sea and East China Sea.
Agency Report