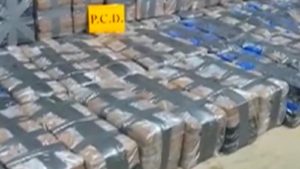 Law enforcement officials in Costa Rica said on Thursday they had recovered two tons of cocaine from a low-profile boat found about 80 nautical miles off the coast.
The seizure is one of the biggest drug confiscations made at sea.
Costa Rican authorities said they began an operation in the Pacific Ocean after receiving a tip from the U.S. Coast Guard on Wednesday that resulted in the discovery of about 2,000 packets of cocaine of about 1 kg (2.2 pounds) each.
The drugs were found on a four-motor boat known as a low-profile vehicle (LPV), a kind frequently used by drug traffickers because they are difficult to detect by radar.
The Costa Rican coast guard service and drug control police said three Colombian men were arrested and remain in custody in Costa Rica.
"The joint work between the authorities of the United States and the national police is yielding good results in the fight against international drug-trafficking, which has permitted us to seize more than 17 tons of drugs this year," said Costa Rican Security Minister, Michael Soto.
Within that total, 6.7 tons of drugs have been seized in the past 10 days.
Colombian police seized 12 tons of cocaine in November, their biggest haul ever.
With its strategic location surrounded by the Pacific Ocean and the Caribbean Sea, Colombia continues to be one of the biggest producers of cocaine worldwide, generating about 910 tons annually, despite the efforts of the government, according to figures from the U.S. Drug Enforcement Administration.
Agency Report