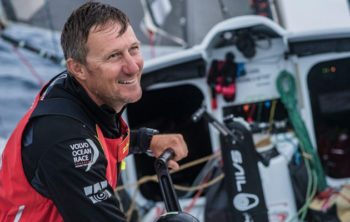 An experienced British sailor who fell overboard from a racing yacht in the remote Southern Ocean during a leg of the Volvo Ocean Race is now presumed to have been lost at sea, race organizers have confirmed.
The sailor, 47-year-old John Fisher, was a crew member on Team Sun Hung Kai/Scallywag, led by Australian skipper David Witt.
On Monday, Team Sun Hung Kai/Scallywag reported at approximately 13:42 UTC of a man overboard in gale force conditions as the 65-foot yacht was racing in the Southern Ocean some 1,400 miles west of Cape Horn.
Despite an exhaustive search in challenging conditions, the Sun Hung Kai/Scallywag team was unable to recover Fisher.
"This morning I am extremely sad to inform you that one of our sailors, John Fisher, from Team Sun Hung Kai / Scallywag, is now presumed to have been lost at sea," said Richard Brisius, the President of the Volvo Ocean Race.
"This is heart-breaking for all of us. As sailors and race organisers losing a crew member at sea is a tragedy we don't ever want to contemplate. We are devastated and our thoughts are with John's family, friends and teammates," Brisius said.
Wind at the time of the incident was reported as 35-knots with a water temperature of 9° Celcius (48°F). A ship located about 400 miles away was diverted to assist in the search.
"We immediately coordinated with the team as well as the Maritime Rescue Coordination Centre, who have located a ship and diverted it towards the scene. But at current speeds it remains over a day away," Brisius said.
"With the rest of the Volvo Ocean Race fleet approximately 200 miles downwind, sending them back upwind to assist, against gale to storm force winds, was not a viable option.
"The Sun Hung Kai/Scallywag team conducted an exhaustive search for several hours in extremely challenging weather conditions, but they were unable to recover their teammate," he added.
According to the Volvo Ocean Race, Team Sun Hung Kai/Scallywag has now resumed heading in a north-easterly direction and continues to face challenging conditions.
Fisher, a veteran racer, was born in Southampton but based in Adelaide, Australia. He was on watch and wearing survival gear at the time of the accident, according to race organizers.
The team is currently participating in the seventh leg of Volvo Ocean Race from Auckland to Itajai, Brazil, a distance of 7,600 miles.
In January, a crew member with team Vestas 11th Hour Racing was killed when his yacht collided with fishing vessel near Hong Kong during leg four of the Volvo Ocean Race.
Lee Seng Huang and Sun Hung Kai & Co, owner and sponsor of Team Sun Hung Kai/Scallywag, posted the following statement to Facebook: "We are devastated by the news involving our crew member, John Fisher, following a man overboard incident early on Monday afternoon UTC.
"Witty and the Scallywag crew have been battling extremely treacherous conditions in the Southern Ocean and this tragedy is heart breaking.
"The crew did everything they could to recover John, leading an extensive search and rescue operation in stormy conditions. Now, with the forecast worsening and night falling, the team has made the difficult decision to head for landfall, 1,200 nautical miles away in South America.
"Over our long passages, I have come to know Fish well. Despite the dangers of the sport he loved his sailing. He is one of our own, a long-standing member of the team. He is a great and experienced sailor, the finest human being and a true Scallywag.
Our thoughts and prayers are with John's family and the crew at this most difficult time, and we are working with Volvo Ocean Race to provide all the support we can. Our focus now, is getting the boat and crew to a safe harbour."   
Copyright Ships & Ports Ltd. Permission to use quotations from this article is granted subject to appropriate credit given to www.shipsandports.com.ng as the source.