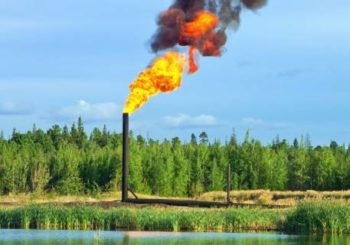 BudgIT, a civic technology organisation, on Wednesday applauded plans by the Nigerian National Petroleum Corporation (NNPC) to end gas flaring ahead of 2020 flare out deadline by the Department Petroleum Resources (DPR).
BudgIT made the commendation in a statement by its Communication Lead, Abiola Afolabi, in Abuja.
It noted that the plan by NNPC to reduce gas flaring could not have come at a better time than this.
The organisation according to the statement, said gas flaring was not only ravaging lives in the host communities in Niger Delta but also costing the economy over $2.5 billion annually.
It said, "Yet the economic implications of ending this practice should significantly improve Nigeria's power generating capacity.
"Gas flaring also has significant impacts on the life expectancy of the 'working poor' and 'have-nots' who struggle to live within these communities."
BudgIT welcomed NNPC's new three-point smart strategy aimed at ending gas flaring in Nigeria and also encouraged the corporation to release more information about the process, performance metrics, regulations and enabling laws that would aid in the fulfilment of this plan.
The organisation said its recent report on gas flaring indicated that about 30 million people residing in the region were affected by unnecessary gas burning by oil companies in the region.
It said, "It is therefore commendable that Dr Maikanti Baru in his speech at the 50th Offshore Technology Conference (OTC) laid out a three-point smart strategy aimed at ending the practice.
"BudgIT is pleased with NNPC announcement to reduce gas flaring ahead of 2020 flare out deadline by the Department Petroleum Resources (DPR).
"We urge the media, Civil Society Organizations, oil companies and the government to ensure that this laudable initiative is monitored and implemented."
Baru added that it was equally important to see a demonstrable plan with specified timelines of strategy implementation.
He said, "We believe the perennial issue of gas flaring can be contained if there's a political will to implement the declared policies.
"We urge the NNPC to release its monthly operational and financial reports to publish the reports for the first quarter of 2018 in line with its transparent, open and accountable practice."