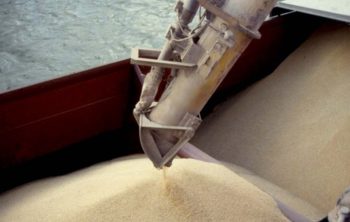 Japanese buyers have bought between 150,000 and 180,000 tonnes of U.S. sorghum carried by three vessels previously bound for China amid a trade spat between Beijing and Washington, industry sources told Reuters.
The cargoes were among roughly two dozen bought by China but left stranded after Beijing announced last month it would hit U.S. imports with a 178.6 percent deposit on the value of sorghum shipments, amid escalating trade tensions.
Trading firms have been scrambling to offload the cargoes to other countries, including Spain, which has so far purchased five cargoes, and Saudi Arabia.
Japanese trading house, Mitsubishi Corp, bought one vessel carrying about 58,000 tonnes of U.S. sorghum, said a source who declined to be named due to sensitivity of the matter. Mitsui & Co purchased some of the sorghum from that vessel, the source said.
"The cargo has arrived at Kashima port and also stopped at Mizushima and Shibushi ports to offload some of the supply, with unloading work to be completed this week," the source said.
Another source said the vessel arrived at Kashima late last month.
Other buyers include Zen-Noh, a Japanese farmers' cooperative, and a pair of trading companies – Toyota Tsusho Corp and Itochu Corp four sources said.
"There may be another vessel coming to Japan if Marubeni Corp succeeds in striking a deal with a partner of another country," one of the sources added.
Officials from Mitsubishi, Mitsui, Zen-Noh, Toyota Tsusho, Itochu and Marubeni all declined to comment.
Data from the U.S. Department of Agriculture and Thomson Reuters Interactive Map shows the cargo that offloaded at Kashima port in late April left Archer Daniel Midland Co's Galveston elevator around March 7. Another vessel that arrived at Kashima port on May 16 departed Cargill's Houston elevator at the end of March.
While some early offers for the distressed cargoes came in as low as $160-$170 per ton just after China's announcement, the Japanese buyers paid more than that but "still much lower than the pre-mid-April levels," another source said.
Traders said Japanese firms had paid around $230 per ton for sorghum before Beijing announced the deposit.
Japan's sorghum imports have been declining since 2012 as cheaper alternatives took a greater share of livestock feed. Sorghum's blending ratio slid to 2.3 percent in the 2016/17 financial year from 7.7 percent in 2012/13, said Commodity Intelligence, a Japanese commodity market research company.
In 2017/18, Japan imported about 365,830 tonnes of grain sorghum, down from 1.46 million tonnes in 2012/13, according to government data.
Japan's increased sorghum purchases may mean reduced imports of other commonly used feed grains like corn, barley and wheat or less use of locally-grown feed rice, a source said.
In the longer term, a lack of Chinese buyers could put pressure on sorghum prices, increasing its share of the Japanese feed market.
"Many believe that this is a one-off thing, but if the U.S. producers sell sorghum at cheaper prices than corn, Japanese feed makers may buy more sorghum and buy less corn or wheat," the source said.
Agency Report