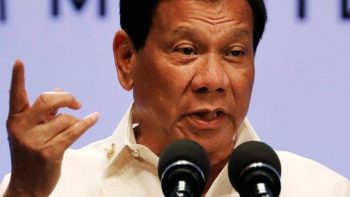 By Jite Eriabie 
The Philippines on Wednesday said it would oppose what it said were attempts by Beijing to formally assign Chinese names to undersea features on part of Manila's continental shelf on its Pacific Ocean coast.
Presidential spokesman Harry Roque said the issue would be raised with an international ocean mapping agency under the United Nations, which was responsible for assigning names on underwater features.
"We object and do not recognize the Chinese names given to some undersea features in the Philippine Rise," Roque told a regular media briefing,
The area, which the United Nations designated in 2012 as within the jurisdiction of the Philippines, is better known as Benham Rise. It is roughly the size of Greece and believed to be rich in biodiversity and tuna.
It is not in the South China Sea and Beijing has made no claim to it. However, Filipino nationalists are suspicious of China's interest in the area.
President Rodrigo Duterte earlier this month banned all foreign scientific research at Benham Rise and told the navy to chase away unauthorized vessels, including Chinese oceanographers, whose research trip he had personally approved only a few weeks earlier.
According to Roque, Beijing had proposed in 2015 to assign Chinese names to five undersea features at Benham Rise before the International Hydrographic Organisation during a conference in Brazil.
Philippine diplomats had raised their concern with the Chinese authorities, he said.
Chinese foreign ministry spokesman Geng Shuang said he was not aware of the specific details but said the naming of such features was permitted.
"China respects the Philippines' relevant rights to Benham Rise. At the same time, we hope the relevant party can take a professional and responsible view of relevant continuing work," Geng said.
Defence Secretary Delfin Lorenzana said the Philippines would assign its own names to the undersea features of Benham Rise.
Copyright Ships & Ports Ltd. Permission to use quotations from this article is granted subject to appropriate credit given to www.shipsandports.com.ng as the source.