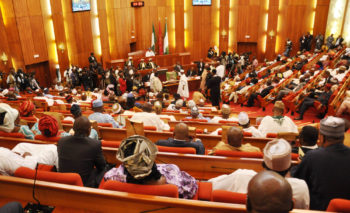 The House of Representatives has resolved to probe the circumstances surrounding the engagement of consultant for a $160m World Bank project in the country.
The House also mandated the Minister of Industry, Trade and Investment as well as the Minister of Finance not to renew the consultant engaged for the Growth and Employment (GEM) project.
The resolution was sequel to a motion of urgent public importance introduced during plenary on Wednesday by Mark Gbillah, from Benue.
Gbillah said the GEM project is being funded by World Bank through a concessionary loan of $160m, and aims to empower over 4,000 small and medium scale enterprises (SMEs) across the country.
He also said a serving director in the civil service had been given the responsibility of coordinating of the project, in line with the terms of agreement with the World Bank.
He added that rather appoint a new director following the retirement of the Pioneer Coordinator, Okechukwu Enalamah, Minister of Trade and Investment, opted for a consultant.
The lawmaker said the consultant is believed to be an employee from African Capital Allowance, a private equity firm owned by a former Minister in charge of the ministry.
According to him, the said consultant is paid a total of N4.7 million monthly, and with the contract due to expire in February, 2018, there is a cost implication of over N120 million from the money meant for the SMEs.
Contributing to the motion, Chika Adamu, from Niger State, described the alleged action of the Minister as "the height of impunity".
Adamu said even the World Bank usually advocates for the use of internal persons rather than consultants.
"This money belongs to Nigerians and we have so many qualified Nigerians to head the project within the civil service," he added.
After deliberations on the issue, the House mandated relevant committees to investigate the matter and report back to the lawmakers.   
Copyright Ships & Ports Ltd. Permission to use quotations from this article is granted subject to appropriate credit given to www.shipsandports.com.ng as the source.