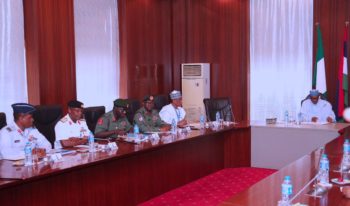 President Muhammadu Buhari on Wednesday approved the release of $1 billion for the procurement of security equipment to aid the fight against Boko Haram insurgents.
The Minister of Defence, Mansur Dan-Ali, made the announcement at the end of the security meeting presided over by President Muhammadu Buhari.
Dan-Ali said the meeting was to review the security situation in the country.
"I can inform you that of recent, our leader, President Muhammadu Buhari, gave approval for the purchase of more equipment for the military, worth $1 billion," he said.
The minister also spoke about the specific issues discussed during the meeting.
He said, "This is a normal meeting of security agencies in the country. As usual, we discussed the current activities that affected most of the states in the federation like Taraba, Zamfara and other states.
"We have operationalised a division in Sokoto, there will be a brigade in Katsina and another brigade in Zamfara that will take care of security situation in that area.
"The strength of security personnel has increased, including the Air Force additional quick response group, they have added enough manpower in that area."
On the release of Leah Sharibu, the only schoolgirl in captivity out of the 119 abducted in Dapchi, Yobe state, Dan-Ali added, "Well, we are making all available efforts to see that the girl is returned safely."