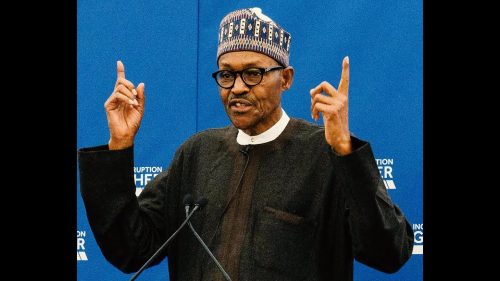 President Muhammadu Buhari says Nigerians engaging in criminal activities outside of the country do not represent the values of the country. 
The president said this on Thursday in Yokohama, Japan when he met with leaders of the Nigerian community living in Japan on the sidelines of the Seventh Tokyo International Conference on African Development (TICAD7). 
Buhari's comments come after the United States Federal Bureau of Investigation (FBI) listed many Nigerians in an ongoing investigation related to fraud cases.
"Let me also say that there are few Nigerians in the diaspora that are giving us a bad name by engaging in criminal activities. These Nigerians are a minority, they do not represent the values of our country, and I plead with them to change their ways.
"We will not condone any crime whether at home or abroad, and we will also not allow these Nigerians define us as a people with reputation for criminality.
"I am personally very happy that there are millions of Nigerians all over the world, like you here, who are truly making us proud," he said. 
The president said over 17 million Nigerians in diaspora have excelled in varying fields, both professionally and individually.
He said Nigerians have also made significant and positive contributions to the Nigerian and international host communities. 
He commended Nigerians living in Japan for "positively impacting the Nigerian economy through financial home remittances, promoting international trade in Nigerian commodities, our music, culture, tourism, sports, and education, while also helping to establish industries in Nigeria." 
He also called on them to encourage legitimate Japanese entrepreneurs to come and invest in Nigeria.
"We are continually working to create the necessary enabling environment for investors to thrive, through improvements in our Ease of Doing Business practices, providing security, diversification of the economy, infrastructure and fighting corruption," he said. 
He added that he regularly hold town hall meetings with Nigerians in the diaspora anytime he is on foreign engagements to appeal to Nigerians to be good ambassadors, observe the laws of host countries, excel in whatever they do legitimately, and also remember Nigeria.