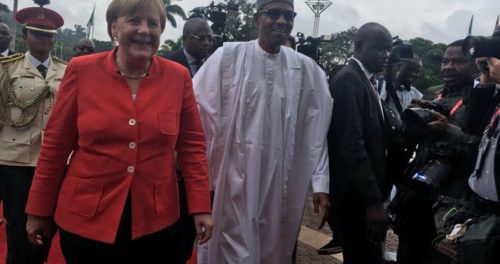 President Muhammadu Buhari on Friday received German Chancellor, Angela Merkel, at the Presidential Villa, Abuja.
Merkel, who is concluding her tour of three West African countries, arrived the fore court of the Presidential Villa at around 10:02 am, was welcomed by Buhari and who introduced some members of his cabinet and presidential aides to her.
They later went into a closed door meeting.
The German leader had earlier visited Senegal and Ghana to discuss strengthening economic development and containing illegal migration.
She was accompanied by members of her economic team.
Merkel's visit comes 48 hours after that of British Prime Minister, Theresa May.