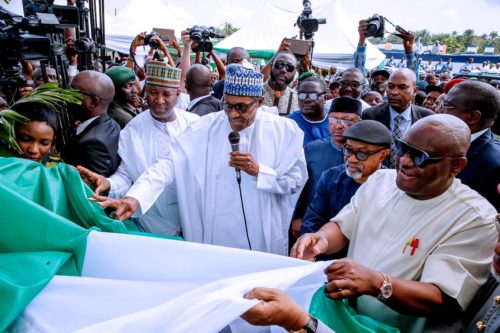 President Muhammadu Buhari on Thursday said the Federal Government decision to remove Value Added Tax (VAT) from domestic air transportation is to make air travel more affordable to citizens.
He revealed this during the inauguration of the new international terminal of Port Harcourt Airport, Omagwa, in Rivers State.
Buhari said the removal of the VAT was also meant to create job opportunities in the nation's aviation sector.
According to him, the decision to charge zero VAT from domestic air transportation was in line with global best practices.
He said, "This will make air travel more affordable and subsequently lead to the creation of jobs by the air transport service value chain as well as increase revenues for government.
"Today's commissioning is an example of government's deliberate policy to sustain the development of infrastructure for economic growth in all geopolitical zones of the country.''
The president stressed that the inauguration of the terminal was a response to global trend in which aviation had become a catalyst for economic growth as a result of massive and speedy movement of persons, goods and services in a safe and secure manner.
He said, "Following the large increase in national population with consequent surge in air passenger traffic, the capacity of the airport terminals became woefully inadequate to cater for the increase in passenger traffic.
"Although palliative measures were periodically carried out, the facilities were fast giving-in to the effects of wear and tear.
"It therefore became necessary to take decisive action to ensure our terminals meet minimum international standards for the travelling public.
Buhari said that Nigeria having an advantageous central location within the sub-region and its desire to develop into a regional air transportation hub, must upgrade its facilities to take advantage of its assets.
He commended the people of the South-South region and airport users for their patience during the period of the construction.
The president also commended the efforts of the Federal Ministry of Transportation, particularly the Aviation, the Chinese government and the China Exim Bank for their financial support and the various roles they played leading to the successful completion of the project.