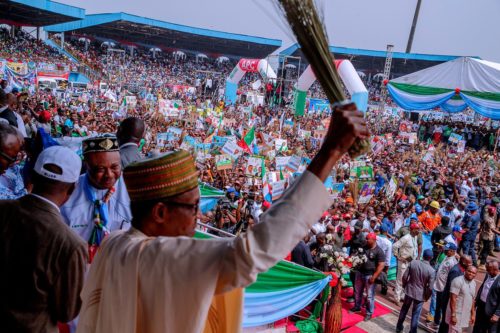 President Muhammadu Buhari has assured the people of the Niger Delta that his promise to develop the region would continue to receive serious attention.
President Buhari, who gave the assurance on Thursday at the Warri Township Stadium, during the flag-off of the All Progressives Congress (APC) campaign/ mega rally for Delta state, also emphasized that his administration's fight against corruption would receive more serious steam if re-elected next month.
President Buhari, who came as the last speaker at the event, which saw a massive turn out of people from different parts of the state, noted that his administration would continue to give attention to issues of security and the economy, noting that security would allow for proper management of the nation, which would eventually give room for a thriving economy.
"I assure you, the fundamental objectives we have identified and campaigned on in 2015 are still relevant; the country has to be secured to be properly managed and proper management means doing well in the economy. We have a young population, most of them unemployed, this is of great concern.
"We have turned to agriculture and industry. Massively, God has helped us with raining seasons, especially the last two and we have virtually been able to achieve food security as a nation. A lot of young people have been mobilized and they have gone back to land and they haven't regretted it.
"In the fight against corruption, I assure you that all those who have fraudulently enriched themselves when they were entrusted with public funds, we will eventually get them and deal with them. We are doing it, we will continue to do it and I assure you, we will not abuse your trust.
"I assure you that the programme mentioned here about the development of the Niger Delta will be taken even more seriously. I expect you to please cooperate and vote APC from top to bottom. APC from top to bottom", the president said.
Others who spoke at the event assured President Buhari of getting his winning figures from Delta state and the other parts of the Niger Delta region.
The Director General of the Presidential Campaign Council and Minister of Transportation, Rotimi Amaechi, in his remark said "don't sleep on that day because if you sleep PDP will steal the slip and write results as they always do. You said you want to change Okowa, the only way to change Okowa is to go out that day to vote. Vote for Buhari, vote for Ogboru and don't vote Okowa, that way APC will win".
Leader of the Delta Mainstream APC, Olorogun O'tega Emerhor, while speaking with journalists at the venue of the event, said the APC would win massively in Delta, saying the "our people are waiting for the elections to come so that we can reciprocate President Buhari's performance in the state. I can confidently tell you he will score over 80 per cent of the total votes in Delta with this massive turnout in next month's election. APC has taken over Delta".
The Minister of State for Petroleum, Dr Ibe Kachikwu, speaking at the palace of the Ovie of Uvwie, where all Urhobo monarchs received the president reeled out the achievements of the administration in Delta state and other parts of the oil-rich Niger Delta region.
Immediate past governor of the state, who is also contesting the Delta South Senatorial District's election on the platform of the APC, Dr Emmanuel Uduaghan, said: "Mr. President, Delta people have seen what you have done and they are ready to vote you in a second time".
The Senator representing Delta Central Senatorial District, Senator Ovie Omo-Agege, also assured President Buhari would sweep the election in Delta state.
National Chairman of the APC, Comrade Adams Oshiomhole, in his lengthy remark, charged President Buhari to ensure that he follow through till he gets answers to how the $16 billion appropriated by the previous PDP administration was spent and ensure that everyone involved in the mismanagement is punished.
"Yesterday (Wednesday), I was watching the television, I saw PDP Presidential candidate and a former custom officer (Atiku), he was saying in the likely event that If Nigerians make the mistake of their life to vote for him (Atiku) as president, is telling Nigerians whether they like it or not even if he would die that he will sell oil
reserves of Delta, Akwa Ibom, Edo states and that he would auction all oil properties of Nigeria whether they (Nigerians) like it or not.
"If somebody put you on notice that if you vote for him that he is going to sell your family, will you agree? Will you vote for him? When Atiku was the vice president, I was the president of the Nigeria Labour Congress. When they wanted to sell Nigeria Airways, when we told him no, he (Atiku) said he don't care. He just wanted to sell Nigeria Airways", Oshiomhole said.
Also speaking with journalists, the Executive Director (Projects) of the Niger Delta Development Commission (NDDC), "Delta state and indeed the Niger Delta region has enjoyed a new facelift through the direct efforts of the federal government and through the intervention of the Niger Delta Development Commission (NDDC)".