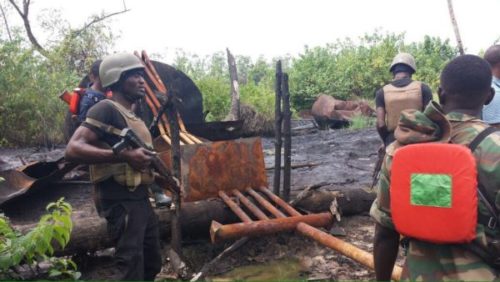 The Nigerian Navy has denied the latest allegations that some of its personnel collected huge sums of bribes from illegal bunkerers to operate freely in Bille coastal communities in Rivers.
An online medium had recently released a damming report and video that accused the navy and other security agencies of colluding with illegal oil refiners in the area.
But, Commodore Sam Bura, Commander, Nigerian Navy Ship (NNS) Pathfinder, Port Harcourt, denied the claims shortly after taking journalists round Bille creeks on Sunday.
"The Naval Headquarters (NHQ) is very worried about this allegation and that was why a high level delegation was sent to Port Harcourt to find out the veracity of this allegation.
"Aside from that, we also decided to invite journalists and take them to Bille to see things for themselves and carry out their own independent investigation.
"The Nigerian Navy does not have (troops) deployment in Bille, and as such, cannot be involved in any corrupt activities.
"All our deployments (gunboats) depart from the base (NNS Pathfinder) to specific areas where they conduct purposeful operations and thereafter, return back to the base.
"So, the allegation is grossly misleading as we do not have deployment there. The high level delegation is already on ground carrying out their independent investigation," he said.
Bura said the Navy was passionate about ending activities of illegal oil refiners and pipeline vandals with the limited resources and equipment at its disposal.
He said, however, that it was impossible for the Navy to deploy gunboats to every nook and cranny of the creeks due to the expanse of creeks in the Niger Delta.
According to him, Rivers alone has over 3,000 creeks and adjoining waterways which made it near impossible to patrol the area round the clock.
"We have our deployments in some strategic areas while other sister security services also have their own in other areas. So, it is a joint effort.
"However, the NHQ has done so much to provide the resources to fight maritime illegalities. Recently, the NHQ gave us 14 gunboats in addition to what we received previously.
"Operation Delta Safe – which we are a component – has also contributed equipment and personnel to operations to deny criminals freedom in the waterways.
"Also, the Rivers Government has donated 10 gunboats with other logistics support to aid the fight against illegal bunkering of crude oil," he said.
Copyright Ships & Ports Ltd. Permission to use quotations from this article is granted subject to appropriate credit given to www.shipsandports.com.ng as the source.