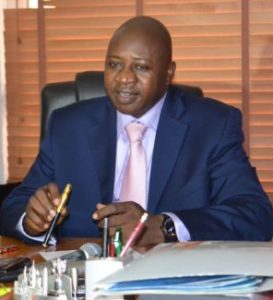 Engineer Omar Suleiman was Managing Director of the Nigerian Ports Authority (NPA) fromDecember 2010 to July 2012. Having been under the employ of the NPA from his NYSC service year in 1985, Suleiman grew up in the port system and was in the concession team, as General Manager, Onne Port after returning from London in July 2003 where he headed the Authority's overseas operations. A fellow of the Chattered Institute of Logistics and Transport (CILT), Suleiman is a graduate of Engineering from Ahmadu Bello University and also holds M.Eng. in Construction and Material Engineering from University of Nigeria, Nsukka and an MBA in port management from the London Business School. In this interview with SAMSON ECHENIM, the former NPA boss speaks on his role at the NPA and myriads of other issues bordering on port development, including deep seaports development in Nigeria.
Excerpts:
Leaving NPA at a young age, the maritime industry expects to see more of you. How has life been after NPA; what have you been doing relevant to the ports, transport and logistics industries?
I left NPA, but actually I haven't left the industry. It is like I was born into the maritime industry and as you know, I joined NPA from my NYSC in 1984 and I stayed in NPA since then for 28 years until I left and through you people I am hearing that I did well at the NPA. Since then, I have been in the maritime industry, locally and internationally because I still render services to some international consultancy firms in terms of maritime, especially in the area of port infrastructure and logistics. Right now, I have some firms consulting me on port infrastructure from other countries.
We learnt you also decided to give politics a shot and had considered a senatorial seat for Adamawa Central. So, how are you gearing up for 2019?
Well, on politics, I will say that I am watching for now. The type of politics I wanted to engage in is to see to a polity with free and fair elections. We cannot seat down and be complaining that government is not doing anything without participation. If you can't participate, then you shouldn't complain. I saw a lot of things that could be done to help our people in the area of politics and that was why I ventured. Incidentally, at that time, things were being done contrary to my beliefs and I withdrew. For 2019, I am watching out and if it looks like something I can venture into again, I will, but if not, I remain busy here in the maritime industry helping to build ports and dockyards.
So can we say that the maritime industry is keeping you away from politics, because actually if you wanted to venture again into politics in 2019, you should have started doing something by now?
I think it is too early for us to begin doing something for 2019, because since we have ventured already, the apparatuses are already on ground; so, we just watch and in the next six months we will begin to see where we can belong. For now I belong to the maritime industry. I am always in Lagos attending to anything that is maritime issue, contributing my quota and I think this is my primary assignment.
Things are tough now for both government and business. How do you think this government has fared?
It is easy for anyone to say the government has not done this or that, but actually there is a lot attached to the business of government—in creating, enforcing and monitoring policies. I think the issue of not allowing people to deposit dollar in their accounts as the first monetary policy in Nigeria was one of the bane of this economy now, because I can tell you that there is so much monies, corrupt monies that are outside Nigeria.The governments of those countries know that these are corrupt monies but they still collected them. No economy refuses money to come into it, especially if the money belongs to its citizens. If you take $500,000 to America now and declare it, you may be arrested, but they will first take the money in. it will take them three or five months to get to the root of the money—whether it is corrupt money or not. After that if the money is not genuine, it will take them another five years to return the money to its country of origin. I think this is the origin of this dollar palaver that we face now and it is skyrocketing.
With exportation of agricultural produce by Nigerians growing out of proportion, there are fears that the country is running out of food. What do you think of the growing exportation of agricultural produce in the face of the need for foreign exchange and a balanced trade?
Truly, Nigerians are exporting food massively. Even in the north here, such agricultural produce as grains, maize and groundnuts are being exported massively out of the country. I think that is a welcome development because, one, it will pressure on the naira-dollar force that we are now dealing with. Two, it will help to generate high income for our people and three; it will encourage people now to go to farm because they can now earn more from their produce. So, it will make increase capacity for all those produce that are exported and it will in the long run, help us to have a lot of food within the country after making a lot of money from agricultural produce.
You are a system person and having been in the NPA as a youth corps member and reaching the highest position as managing director, in which areas do you think the NPA may need reforms?
I will not exactly ask for reform of NPA. NPA as an agency does not really need reform. The pressure that the NPA gets is from the outside, not within. The NPA is a big family of dedicated workforce in the maritime industry. Any NPA staff is willing to give their best for the agency and they work hard.If you hear of issues, it is from the outside and that NPA workers may not be happy and are trying to protect the agency, not that they are not doing well. What is needed to be done is normal restructuring, which I tried to do then but it put me at loggerheads with some interests for which they asked me to go, but I'm happy about that.This is the fact that NPA is still having a management structure of 20 years ago; of when NPA was the master stevedore, which means we were buying forklifts, other equipment and handling cargoes; we were dredging and building warehouses and stacking facilities and doing everything. It is the same structure that is still there even though the NPA no longer do these things anymore with the concession. Now with the concession, management structure has to evolve to cater to the needs of the concessionaires because, the concessionaires are high technocrats. So, NPA has to tune the management structureto match the concessionaires since the agency is now supervising them and working cooperation. I tried to do that but I think a lot of people did not understand me and it caused a lot of problems and I couldn't do it because of external interference that I mentioned. I think that is the only thing because, NPA itself is an organisation that always strives to survive. It is a very good organisation.
You were part of the port reform. There is no doubt that the concession of the ports has led to improved capacity, quick vessel turnaround and reduced cargo dwell time, but some say there is no law backing the concessioning of the ports. Do we particularly need a law to back the concession?
It is not law to back the concession because the concession itself has already defined laws. We are supposed to have a commercial regulator. The Nigerian Shippers' Council (NSC) at the moment cannot be a commercial regulator and it cannot be exactly a commercial regulator, because it was only appointed to do commercial regulation when it was already many years after and secondly it has not passed through the legislature. Meanwhile, Shippers Council is holding some responsibilities that a commercial regulator should not do.  A commercial regulator has to function fully only as a commercial regulator. For instance, Shippers Council is still into tariffs. The council is still the one demonstrating inland container depots (ICDs). You cannot be commercial regulator and still be managing port infrastructure like ICDs and setting tariffs; you can't be a commercial regulator and do that. A body will have to do that and it cannot also be an operator. Shippers Council is now an operator with the role it is playing in establishing ICDs. So, the concession came without a commercial regulator, whereas at the time of the concession, there should be a commercial regulator to cater to the industry. But what happened was that NPA was left with the commercial regulation in which it is also a party. NPA is an operator, it is the technical regulator- fine, the NPA is a technical regulator; ours is a landlord port system and you have to technically see that everything is internationally in tune and of globally accepted standards. Therefore, NPA should remain the technical regulator. But because the NPA has royalties to collect and other fees, that now make it not to be a commercial regulator. So, as for the full commercial regulator, that is still lacking up till now and that is one of things.
So, are we looking at the National Transport Commission to take up the role of the commercial regulator?
Yes, it is also spelt in the National Transport Commission. The transport commission is all-encompassing. It includes setting up a commercial regulator and an infrastructure regulator.
Can you throw more light on what transpired with a contract you were said to have awarded that got a general manager for marine operations at the time of the award of the contract suspended after you left NPA?
Really, that issue on that contract was dragged to an unreasonable extent. Everybody involved in the award of that contract was supposed to be given an award of excellence. I can't imagine when the general manager involved said he was accused of awarding that contract. A general manager cannot award a contract. In fact, that particular contract, NPA cannot award it. It is the Ministry of Transport that awarded it. It was above NPA. Somebody just wanted to take that issue to heights it can't reach. Fortunately, I think some people saw the light in that matter and said no we had no case to answer.
Nigeria aspires to be the maritime hub for West and Central Africa. How can it attain this status?
We can't be hub now because we don't have a deep seaport. About 60 per cent of all the imports to West Africa are destined to Nigeria but what gets here is just about 10 per cent. All the shipment coming to West Africa are billed for Nigeria, but at the end of the day what gets to Nigerian port directly is just about 10 per cent. The larger parts are offloaded in neigbouring ports in Cotonou and other West African states and they transship to Nigeria only 10 per cent. We need a deep seaport and good policies that will not discourage importers from our ports.
At the moment there are several deep seaport projects planned across the country. Do we really need all the deep seaports?
If we have one it is good, but have we got any one yet? I made a short speech during the investiture of Princess Haastrup. We need a deep seaport and it should naturally come as part of the gains of the concession, but 10 years after we still don't have a deep seaport. I met Lekki Deep Seaport at about 10 per cent and I left it around 70 per cent completion. I don't know where it is now since I left. Ibaka was having a problem, I took it to about 50 per cent, then when I left, they brought it back to zero. They started all over again and even changed the site this time. As far as I am concerned, the former site is better. In building deep seaport, it is not about politics. There are natural features that determine a port'slocation and a deep seaport for that matter. If you look at Ibaka, it was properly sheltered because when it gets to breakwater, it is not going to be much; it is naturally deep already at about 10 metres. One will now have to dredge about four or five metres more to make it suitable for deep seaport and exposure to the sea is not very much. If you look at the entrance of Warri Port, you see that it is a natural entrance and that is why the port came there. You don't just go into any beach and start to build a port there; it is going to be very expensive and it will involve multiples of dredging efforts, dredging after dredging and maintenance will be very costly. So, right now we should have a deep seaport. The absence of it is why we are losing huge trade in terms of maritime in Nigeria right now, because without the deep seaport we do not offer any economy of scale for large vessels to come. Something that the government should look into and I have said it before is the government policy of PPP for port infrastructure. The government policy on PPP is too general. The country will need a more specific PPP for maritime and port building. We need a very special form of PPP to cater to maritime infrastructure. The major part in building a deep seaport is breakwater. Once the breakwater is done it remains the keys and the dredging and anybody can do that. The breakwater takes about 50 per cent; ask anyone in any country, breakwater takes 50 per cent of the total cost of building a deep seaport and usually there is no private individual that does breakwater in most countries except in very special arrangements. Government does the breakwater through its agency, as in this case, the Nigerian Ports Authority.
In other words, are you saying that the government is leaving too much to the private sector in the PPP arrangement for deep seaport?
Yes, the government is leaving much to the private sector than the private sector can handle because the Nigerian PPP model is 60, 20, 20 for private sector, state government and federal government respectively. The total of 40 per cent from government cannot do the breakwater and that is why we do not have a deep seaport by now.
But did you bring this to the notice of the government as MD of NPA?
I have told them in my presentation to the President and the economic advisers and I stated it any time I had to present to them. We even recommended a special infrastructure commission for the maritime industry if we want to move forward. The maritime infrastructure commission will understand the complexities involved in maritime infrastructure and they will tailor the type of ratio investment to maritime infrastructure. The life span of maritime infrastructure is not less than 25 years unlike many other infrastructures, so we need a body that understands maritime infrastructure so that they can plan for the maritime industry in terms of infrastructure. If we have the maritime infrastructure commission, then as we are saying we cannot have a general transport regulator. It won't work. We have to get a specific maritime regulator.
So would you call for a specific ministry of maritime, as is the case in some countries like India?
It is not wrong. The aviation has a ministry in Nigeria and so why not maritime. Which of the two industries is bigger?Even now, the ministry of Aviation is not effectively merged to Transportation because we still have two different ministers for them. The Minister of State for Aviation is in charge of Aviation. So we can as well have Minister of State for Maritime. Maritime commands more businesses. The maritime sector is the second revenue generator to the government and generous experience is needed to handle maritime because everything is under water; it is not like other industries everyone can see. There is a lot of wealth in the water that ordinary people don't see.
The Warri Port and the Calabar Port have been having operational issues and businesses operating there are almost going into extinction. How can these ports be revived?
Well, let me mention that Warri Port has no problems. The problem of Warri Port is militancy. As you see, when militancy goes down and the investors feel comfortable, Warri Port will bounce back. But the Calabar Port has a big problem. Anyone in the maritime industry understands that in NPA archives, the Port of Calabar was not designed for Calabar. It was designed for Oron. Oron is on that paper until it went to the Military Council. It was at the Military council that cancelled Oron and put Calabar. It is 120 kilometres of high sea meandering channel. If you dredge it this month with $100 million, in six months' time you will need to dredge it again. That is the problem of Calabar Port. If you understand that you will understand why the port is where it is now. But it can be solved. In the maritime industry, once the operators are there, Calabar Port can be turned into an industrial port. It has six metres natural depth. Batches and smaller vessels can come in as an industrial port where a lot of manufacturing can be happening and value of integration gotten. But it can't be managed for big vessels. It doesn't have to be a port for the importation of large containers. It is better for industries for fabrication and manufacturing. It can also be used as export port using smaller vessels to move exports to big ports for onward transmission. For you to get 10 metres draught in Calabar and maintain it consistently, it is not economical. It was maintained when NPA was the master stevedore in charge of the ports, not now when we have terminal operators. For terminals in Apapa there are certain parameters in the agreement that NPA has to cater to for the operators to work, so, the money you make in Apapa you need to put it back into the Apapa Port so that Apapa Port can work; if you carry that money and put in Calabar and Apapa is ignored, both ports will break down.
For the first time we are having a female MD of NPA. What is your advice to the MD and her management?
They should learn. They have a lot a lot to learn because the industry needs a lot of knowledge. The wealth of maritime is under water. There is a lot to learn about maritime. You see, there are a lot of very knowledgeable people in NPA right now, some of them even more knowledgeable than me. NPA as an agency is family and there are a lot of good hands. But the management will need to sit down and learn and I know this will take some time, but they will succeed if they learn well. But I am afraid that right now, they are learning from people that want contracts from them. Anybody coming to them and claim knowledge of certain aspects, they should check very well to ensure that they are not people coming to seek contracts and jobs and not the wellbeing of NPA. The real people who have tangible things to offer, people like Sarumi and some of us who have been there before, we will never say anything until we are asked and when we come, we will never ask for anything. I really wish the management well. They need to succeed. I don't think there has been a time that NPA needs knowledgeable people more than now because cargo throughput has dwindled. We have neighbouring countries we are competing and they are getting better much better than us. So there is no time they need people who understand the industry more than now.
Copyright Ships & Ports Ltd. Permission to use quotations from this article is granted subject to appropriate credit given to www.shipsandports.com.ng as the source.