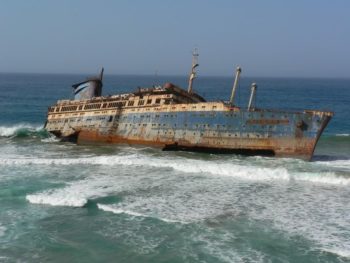 By Jite Eriabie 
The Canadian Government has introduced legislation that would add additional pressure on shipowners to proactively deal with wrecked, abandoned or hazardous vessels in Canadian waters.
The bill, known as the Wrecked, Abandoned or Hazardous Vessels Act (Bill C-64), was introduced Monday on the one year anniversary of Canada's $1.5 billion Oceans Protection Plan.
Specifically, the Wrecked, Abandoned or Hazardous Vessels Act will prohibit vessel abandonment; strengthen owner responsibility and liability for hazardous vessels and wrecks, including costs for clean-up and removal; and empower the Government of Canada to take proactive action on hazardous vessels before they become more costly to Canadians, according to a press release from Transport Canada.
Bill C-64 will also bring the Nairobi International Convention on the Removal of Wrecks, 2007 into force under Canadian law. The law, which was tabled in Parliament in September, aims to strengthen vessel owners' liability for hazardous wrecks from marine incidents.
"Preventing abandoned vessels and reducing the impacts from wrecked and hazardous vessels will improve environmental protections and increase economic opportunities through tourism and fishing. At the same time, these actions will reduce local threats to human health and safety while protecting our coastlines and clean water for generations to come," Transport Canada said.
The $1.5 billion Oceans Protection Plan, the largest investment ever made to protect Canada's coasts and waterways, was launched by Canadian Prime Minister Justin Trudeau in November 2016. In the first year under the plan, the Government of Canada has already invested more than $450 million, including a total investment of over $175 million in seven measures to help protect Arctic waters. Other investments include $6.85 million on a five-year Abandoned Boats Program and another $1.3 million on a Small Craft Harbours Abandoned and Wrecked Removals Program.
"We are taking further action on our promise to protect Canada's coasts and waterways," said Canada's Minister of Transport, The Honourable Marc Garneau. "Holding vessel owners accountable for their actions is an important step in ensuring Canadians are not burdened by the effects of wrecked and abandoned vessels, nor responsible for their clean-up costs. This is an important stage in addressing abandoned and wrecked vessels. This will give the shore back to the communities and protect our coasts and the quality of our water. The Government of Canada is committed to demonstrating that a clean environment and a strong economy can go hand-in-hand."    
Copyright Ships & Ports Ltd. Permission to use quotations from this article is granted subject to appropriate credit given to www.shipsandports.com.ng as the source.