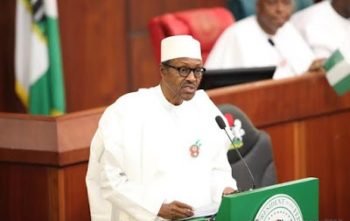 President Muhammadu Buhari says the size of the 2017 capital budget reflects the government's determination to spur economic growth.
Buhari made the explanation while presenting the 2017 budget at the joint session of the National Assembly in Abuja on Wednesday.
He said the capital expenditure for the 2017 budget had increased from N1.8tn in 2016 to N2.24tn.
He said that the size of the 2017 capital budget was inclusive of statutory transfers, or 30.7 per cent of the total budget.
He added that the capital provisions were targeted at priority sectors and projects.
He said, "Specifically, we have maintained substantially higher allocations for infrastructure which will have a multiplier effect on productivity, employment and also promote private sector investments into the country."
He said Ministries of Power, Works and Housing is to get N529bn, an increase from N433.4bn in 2016, Transportation gets N262bn from N202.0bn, and Special Intervention Programs N150bn as against N200bn in 2016.
Defence is projected to spend N140bn, an increase from N134.6bn in 2016 while Interior got N63bn from its N53.1bn allocation in 2016.
He said that another N100bn has been provided in the Special Intervention programme as seed money into the one trillion naira Family Homes Fund (FHF) that will underpin a new social housing programme.
This substantial expenditure is expected to stimulate construction activity throughout the country.
He said, "Efforts to fast-track the modernisation of our railway system will receive further boost through the allocation of N 213.14 billion as counterpart funding for the Lagos-Kano, Calabar-Lagos, Ajaokuta-Itakpe-Warri railway, and Kaduna-Abuja railway projects.
"In 2016, we invested a lot of time ensuring the paper work is done properly while negotiating the best deal for Nigeria.
"This took longer than expected but I am optimistic that these projects will commence in 2017 for all to see."
He also said that the 2017 budget retained the allocation of N500bn to the Special Intervention programme consisting of the Home-grown School Feeding Programme, Government Economic Empowerment programme and N-Power Job Creation Programme.
This, he said, was to provide loans for traders and artisans, Conditional Cash Transfers (CCT) to the poorest families and the new Family Homes Fund, a social housing scheme.
Buhari said that provision had also been made in the estimates for activities that will foster a safe and conducive atmosphere for the pursuit of economic and social activities.
He said, "In this regard, the allocation for the Presidential Amnesty Programme has been increased to N65bn in the 2017 Budget.
"Furthermore, N45bn has been provisioned for the rehabilitation of the North East to complement the funds domiciled at the Presidential Committee on the North East Initiative as well as commitments received from the multinational donors.''
The proposed N7.29tn 2017 Appropriation Bill is predicated on crude oil price of 42.5 dollars per barrel and an exchange rate of N305 per dollar.