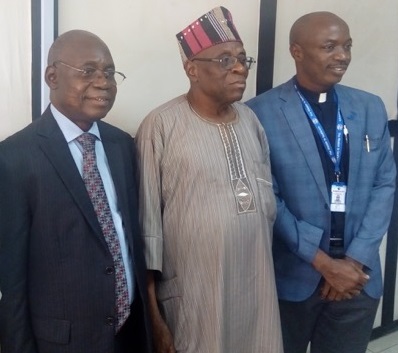 Former Executive Director, Marine and Operations of Nigerian Ports Authority (NPA), Capt. Olugbenga Abidoye is back to full-time port operation as Managing Director of the port operating arm of Dangote Group – Greenview Development Nigeria Limited (GDNL). 
GDNL operates Terminal E at the Lagos Port Complex, Apapa. 
Abidoye, who is the pioneer Managing Director of GDNL having served from its inception in 2006 to 2009, is a highly respected Master Mariner and internationally-acclaimed port administration.
He has worked at Dangote Group's head office in Ikoyi, Lagos from 2009 until his return to the port last month. 
Several professional groups and individuals have been visiting Abidoye since his return to Terminal E, Lagos Port Complex Apapa. One of the groups is the National Seafarers Welfare Board of Nigeria (NSWBN) led by its Chairman, Otunba Kunle Folarin. 
The group, which came calling on Tuesday, commended Abidoye for his immense contributions to the development of the maritime industry even as they solicited support for seafarers' welfare. 
"This visit is an opportunity to highlight the programs we have for seafarers' welfare; it is a continuous work in progress. Capacity building for seafarers is a huge problem. Most of the young people who are trained and have gone through the colleges are not able to get the right certification because they need a practical aspect of the training which is called sea time. Unfortunately for Nigeria, we are not able to provide a full opportunity in this regard.
"Another challenge is their welfare as it affects the issue of piracy attack. Fortunately, the NSWBN has secured the services of a Masters degree holder in psychology and human management, who has been working with us for two years now addressing this issue by visiting prisons, families of traumatised seafarers, engaging the seafarers on how to address their problems," Folarin said. 
In his response to the request, Capt. Abidoye said, "I cherish your visit. We have noted all your programs. As a group, we will go through all the documents and make our recommendations to the President (of Dangote Group). I am very sure that he will definitely give a helping hand." 
Capt. Abidoye served as Executive Director of NPA from April 2002 to October 2003. Prior to then, he held several key positions in the organization including serving as the General Manager Marketing, where he instituted various reforms including simplification of NPA'S tariff system.