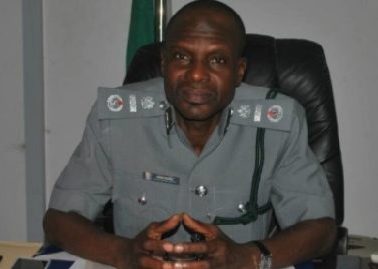 The Nigeria Customs Service (NCS) has warned bonded terminal operators not to allow their terminals be used as transit points for smuggling under any guise.
Coordinator, Nigeria Customs Service Zone A, Aminu Dahiru, gave the warning on Tuesday when he met with representatives of port terminal operators, bonded terminal operators, shipping companies and courier service providers.
Speaking with SHIPS & PORTS DAILY at the end of the meeting which held behind closed doors at the Customs headquarters in Yaba, Lagos, Dahiru, said the call became imperative following several cases of disappearance of containers while on transfer from the port to some bonded terminals.
He said, "We talked about the issue of having escort officers that could be assigned to escort containers from the ports to offdock terminal. I told them it is formality and we cannot throw it away but I reminded them that a good terminal operator can deliver even without escort officers. The problem is many a time, we discover containers are missing on the way. They apply for transfer; make all the necessary request by way of transire, then the container gets missing. Presently, we have three cases to cite as example.
"So I am appealing to them that let none of them allow their terminals be used by smugglers because some items we noticed are being transferred to some points just to cover some ills because it is always easier where you have smaller group than where you have a larger one."
The Customs boss urged the bonded terminal operators to abide by the rules governing transit operations as well as ensure that containers get to their destination and landing certificates returned to appropriate authorities.
He also called on the operators to key into the customs NICIS II platform noting that the Service has commenced automation of cargo transfers at some of its commands.
General Manager, PTML Terminal, Tunde Keshinro, told SHIPS & PORTS DAILY that the purpose of the meeting, which was called at the instance of the Zonal Coordinator, was to help address some of the challenges faced by the operators.
He highlighted some of the challenges to include the issue of overtime cargoes, the NICIS II platform, lack of holding bays and how it is affecting the movement of trucks in and out of the port as well as delivery of cargo.
He said the customs boss assured that the problems particularly those within customs control would be looked into with a view to resolving them.