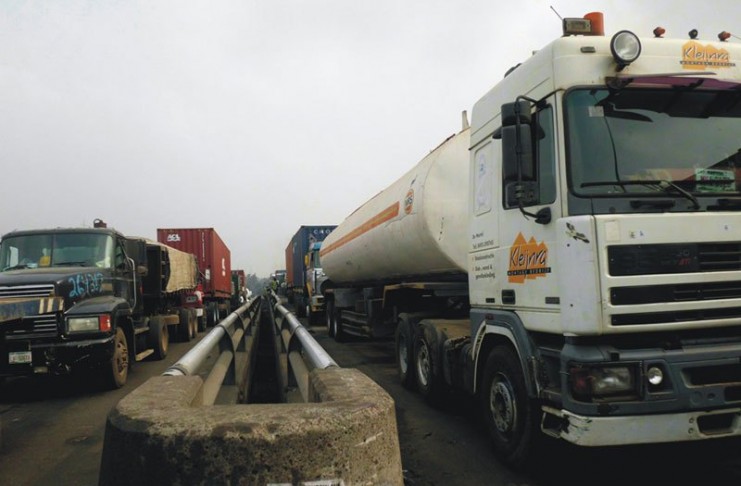 The Nigerian Navy (NN) on Tuesday announced the withdrawal of its personnel attached to the Joint Taskforce put in place to control traffic gridlock occasioned by activities of articulated vehicles within Apapa and its environs.
In a press release made available to SHIPS & PORTS DAILY, the Base Information Officer, Western Naval Command of the Nigerian Navy, Lieutenant Commander Charles Sele Brinemigha said the withdrawal has become necessary as a result of series of allegations and most recently, attacks on naval personnel and vehicles by miscreants in the guise of protest.
According to Brinemigha, "Despite efforts by the NN to ensure sanity on all the roads leading in and out of the port, our personnel on duty were assaulted on July 9 at Ijora-Badia for insisting that these vehicles must maintain laid down rules.
"Also, two NN vehicles and one saloon car belonging to a personnel were damaged. These are traits the NN will not condone, especially when its personnel have risked their lives to ensure that residents and motorists are spared the hassles associated with the gridlock.
"But, there has been a lot of allegations of extortion against our personnel, which the Commander NNS Beecroft had personally given out his telephone numbers to drivers to report any of such acts. I make bold to say that no such complaint has been reported till date.
"Therefore, we believe the attack on NN personnel and properties were sponsored by miscreants that have been living off the Apapa gridlock. Until the situation is conducive for us to come back for operations, our men will no longer participate in the traffic management in Apapa and environs for peace to reign," Brinemigha said.