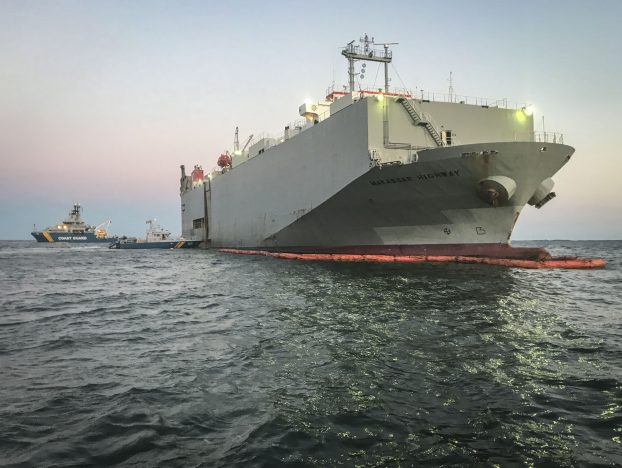 Underwater inspection of the hull of Makassar Highway, the car carrier that ran hard aground off Sweden earlier this week, has shown that the extent of damages on the stricken ship is worse than expected.
There has been no oil leak detected from the ship, however, a couple of the ship's oil tanks are taking on water, the Swedish Coast Guard informed.
The inspection, conducted with the assistance of an underwater robot, revealed that the ship's ballast tanks on the fore part of the ship have been ruptured and are taking on water. 
In addition, a hole has been found in the ship's bow thruster, a couple of oil tanks are also experiencing water ingress and heavy metal damages have been detected on the ship's bulb and its port side.
The distribution of water and oil in the damaged tanks is currently being investigated.
Due to the fact that a huge part of the ship's hull is lying on the ground, this area of the ship cannot be accessed for inspection, hence further damages to the ship's hull are likely.
According to the head of the salvage team, Roger Gebauer, a lot of work will have to be carried out before the ship's refloating can be launched. 
The first task, according to Gebauer, is to remove the oil from the ship to avoid potential threats to the environment.
The ship currently contains 333,000 liters of fuel oil, 38,000 liters of lubricant oil and 34,000 liters of diesel, the coast guard said.
Favorable weather conditions should allow for fuel removal activities to proceed in the next couple of day.
The coast guard said it was in talks with the shipping company, its insurers and agents on the plan to remove the vessel from the site, which is yet to be approved. Several coast guard vessels remain on site to monitor the progress of the operation.
Makassar Highway was on its way from Germany's port of Cuxhaven to Swedish Södertälje port when it got grounded in the Tjust archipelago, off the coast of Loftahammar, Sweden on July 23. The 2001-built unit, operated by Japan's Mitsubishi Corporation, was carrying around 1,300 cars on board.
Following an inquiry into the reasons that led to the grounding, Swedish authorities arrested a crew member.  Media reports suggested that the ship's chief mate had been arrested for allegedly drinking at the helm. 
Copyright Ships & Ports Ltd. Permission to use quotations from this article is granted subject to appropriate credit given to www.shipsandports.com.ng as the source.