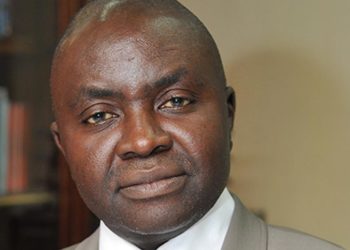 Director General, Lagos Chamber Of Commerce and Industy (LCCI) Muda Yusuf has urged the federal government to review some of its trade policies to have a more vibrant maritime sector and revamp the nation's economy.
Yusuf who spoke in an exclusive interview with SHIPS & PORTS DAILY, said more favourable trade policies and sustainable tariff regime will curb cargo diversion by shippers to ports of neighbouring countries.
He noted that most of the goods diverted to neighbouring ports ends up being smuggled into the country thereby leading to loss of jobs and revenue for the government.
"One way to address this problem is to review our trade policies. We should not set tariff at a level that will make it more commercially expedient for people to avoid using our ports.
"If our trade policies is defective, we would loose a lot of business to neighbouring countries and that is happening already because some of those tariffs are too high and also not sustainable.
"And if a tariff is too high, people cannot go over it, they will go under it and that is what is happening. People divert cargoes and they smuggled some of these products because the borders are so porous and there is limit to what Customs can do. Even those who are doing legitimate business at the port finds it more difficult when you have such unsustainable tariff regime. The government is loosing revenue and we are also losing our jobs," he said.
The LCCI boss also called for provision of adequate port infrastructures to make the nation's ports more competitive.
According to him, there is need for government to invest more in facilities including scanners at the ports.
"The political will must be there and we need to push the government to make that happen. This requires that all stakeholders need to strengthen their advocacy because if government is making a lot of revenue from the port, it should be able to plough back a bit of it to ensure there are facilities," he said.