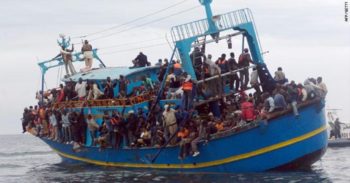 A hundred refugees and migrants crammed into a small dinghy that started taking in water in the Mediterranean endured an agonising 30-hour wait before they were rescued, a maritime log has revealed.
The incident happened over the Easter weekend, the unofficial start of the "sailing season", which sees increased numbers of people attempting the crossing from Africa to Europe as the weather improves.
Twenty children and 10 women, one of them pregnant, were among the passengers on the overcrowded dinghy.
The log details the passengers' rising panic as more and more time passes without a rescue ship arriving.
The boats used by smugglers have become increasingly flimsy and unseaworthy, and many rescues take place within a few hours of them leaving the Libyan coast for Italy. 
People on the boat continued calling the Alarm Phone network throughout the day in an increasingly desperate state. A log entry at 11.34 am states: "They say the boat is in really bad condition, they are taking water out but it gets worse, water is coming in, they don't have much petrol any more, they were begging me really hard to help them."
Two cargo ships approached the struggling boat in the course of the day but did not rescue them and sailed away, the logs show.
At 3.10pm the log states the vessel is adrift with no boat or plane in sight: "They scream for help, panic begins to spread." 
At 6.40pm, the passengers ask: "Are we gonna die tonight, it is getting dark a little?" 
At 7.20pm, they say the battery is running out on their phone. In their last contact at 9.52pm, passengers shout that they are in danger and that a big boat is next to them but the rescue has not started.
It is not until 1.37pm on Sunday that the people on the dinghy are rescued by the Siem Pilot, a vessel operated by the European border force, Frontex.
The crossing from Libya to Italy is now the main and deadliest route into Europe. More than 181,000 people came ashore in Italy last year, and more than 4,500 died en route. So far this year arrivals are up a third on the same period in 2016. About 850 people are estimated to have died.  
Copyright Ships & Ports Ltd. Permission to use quotations from this article is granted subject to appropriate credit given to www.shipsandports.com.ng as the source.