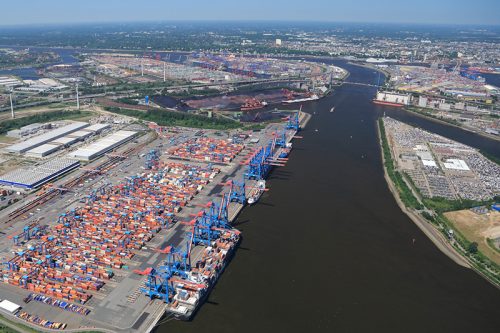 Germany's Port of Hamburg remains on a growth course, achieving a 4.1 percent advance to 69.4 million tons in seaborne cargo handling in the first half of 2019.
A solid growth trend in the general cargo segment of 6.1 percent, at 48.4 million tons, was the main contributor to the total and container handling volumes. The total for bulk cargo handling was just 0.3 percent lower than for last year's first half at 21 million tons.
The 7.5 percent increase in container handling to 4.7 million TEU is primarily attributable to the four new liner services that have linked the Hanseatic City with ports in the USA, Canada and Mexico since the start of the year. The 283,000 TEU handled in Hamburg on container services with the United States since the beginning of the year took the USA into second place among Hamburg's most important partners for container services.
The port is now directly linked by a total of 14 liner services with 29 ports in the USA, Mexico and Canada.
"A total of eleven new liner services in the 2019 first half make it obvious that the Port of Hamburg has gained in attractiveness for shipping and shippers. With the start of expansion related to the adjustment of the fairway on the Lower and Outer Elbe, we are well on course for further expanding Hamburg's position as the Northern European hub for worldwide freight traffic," said Axel Mattern, Joint CEO of Port of Hamburg Marketing.
"Apart from its trade routes with China and Asia, Hamburg has now become a hub for those with the USA, Mexico and Canada."
During the first half, the total number of container vessels calling Hamburg rose by 3.7 percent to a total of 3,046 containerships that berthed in the port. Among these were 89 ultra-large container carriers or 36.9 percent more, with a slot capacity of 18,000 TEU+.
Additionally, at 1.7 million TEU, transhipment on to feeder ships in Hamburg rose by 5.5 percent. Seaport-hinterland services on land in the 2019 first half likewise achieved an 8.7 percent advance to 2.9 million TEU.
For the second half of the year, against a background of repercussions on world seaborne trade that is influenced by the current trade and currency disputes between the USA and China, the Port of Hamburg anticipates total growth of four percent in seaborne cargo throughput, and one of between five and six percent on container handling.