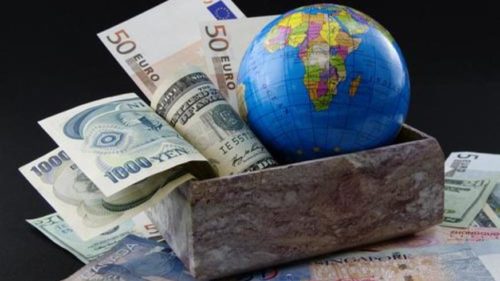 The world economy will see annual growth of 3.5 percent in 2019, according to a forecast by economists of the Chinese Academy of Social Sciences (CASS), attributing the slowdown to the expected weakening of the US economy-the world's largest-after its elevated growth this year, as well as financial market turbulence, the limited policy tools of major economies to handle an easing, as well as trade frictions among major trading powers.
The predictions are contained in the Yellow Book of World Economy 2019, published by the Social Sciences Academic Press (China).
In the United States, the authors posited, major economic indicators, such as GDP and employment have registered levels close to historic highs. That means 2018 may be a peak for the US economy, said Sun Jie, an author of the book and economist at the Institute of World Economics and Politics of the CASS.
The Conference Board, a New York-based economics research institution, also said that the US economy may peak at the end of this year.
For 2019, many organizations, such as the World Bank and the International Monetary Fund have forecast that the GDP growth of the US will weaken compared with this year.
The World Bank said US growth could ease to 2.5 percent in 2019 from 2.7 per cent this year.
"The weakening will make the US Federal Reserve more cautious in raising interest rates," Sun said.
World economic growth may also be affected by possible financial market turbulence caused by expected US interest rate hikes-which could lead to currency depreciation and monetary crisis in other countries, debt defaults in some high-debt-level countries, and possible asset price slumps in other countries as a result of the slowing US economy, the book said.
Meanwhile, compared with 10 years ago, the world's economies have less policy room to cope next year with any crisis, the book said. In the US, the federal funds rate was 5.25 percent before the global financial crisis in 2008, making it possible for the US Federal Reserve to continually cut interest rates in response to the crisis. Now, however, the rate is only 2.25 percent.
The trade disputes between China and the US and those involving other countries, if they escalate, could spill over to affect global trade growth, reduce investment confidence and even lead to financial, military and political conflicts in a worst-case scenario, which would prove disastrous to the world economy, the book said.
"China should stick to its policy of reform and opening-up to cope with the impact from changes in the global economy," said Zhang Yuyan, director of the CASS institute. 
Copyright Ships & Ports Ltd. Permission to use quotations from this article is granted subject to appropriate credit given to www.shipsandports.com.ng as the source.