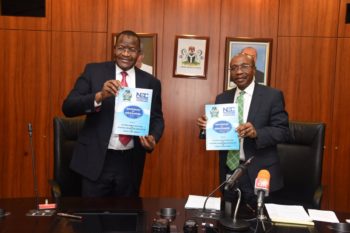 The Central Bank of Nigeria (CBN) and the Nigerian Communication Commission (NCC) in Abuja on Tuesday signed a Memorandum of Understanding (MoU) on payment system.
The Governor of CBN, Godwin Emiefele, said the intention of the MoU between both organisations was to see how they could work together toward driving the payment system in the country.
He said the MoU was geared toward reducing cash transaction and enhancing cashless operations in the country.
Emiefele explained that the signing of the MoU would also help to facilitate financial inclusion and drive a more robust payment system in the country.
He said, "I am very delighted because with this signing, we are certain that we will easily improve the level of financial inclusion from the level it is today which is about 48 percent.
"We will also set a target for ourselves that by 2020, which is in three years or below that the level of financial inclusion should increase to 80 percent.
" I can assure that this signing provides framework for licensing of payment service providers."
Emiefele noted that the MoU was also a framework that would guide the working of those who were stakeholders both in the banking industry as well as the telecommunication industry.
He further said that this was not just for mobile payment but also the payment system in the country.
"We look forward to many more years of close collaboration between the CBN and banking system on one hand and the NCC, telecommunication industry on the other hand," he said.
The Executive Vice Chairman of NCC, Prof. Umar Danbatta, noted that the signing of the MoU between NCC and CBN was a landmark in the digital transformation process that the commission was mandated courtesy of the Act establishing it.
He said the MoU, which was on mobile money service and financial inclusion followed useful work done by a committee made up of the two organisations.
Danbatta said the digital transformation process targeted governance and transformation of key services sector of the economy and one of such sectors was the financial sector.
He said the signing of the MOU was also a positive statement that NCC and CBN were making about their content to ensure the digital transformation process in the country.
"It is also about how both organisations can bring this experience to bear in other sectors of Nigeria's economy like education, transportation and other key service sectors including the delivery of good governance to the citizens of the country.
"NCC is committed to this transformation process; that is why we are making sure our people participate in the digital economy.
"This has to be done in a way and manner that they will be empowered to leverage on information and communication technology ( ICT ) to conduct their daily businesses," Danbatta said.