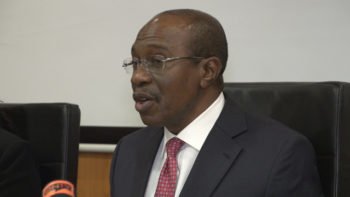 The Central Bank of Nigeria (CBN) has opened another foreign exchange window  for small and medium scale businesses.
CBN says the window, which would allocate $20,000 per business per quarter, is to help small and medium enterprises (SMEs) import "eligible finished and semi-finished items" needed for their businesses.
Isaac Okorafor, the CBN spokesman, disclosed this on Monday, further explaining that the bank's special intervention was necessitated by its findings that a large number of SMEs were being crowded out of the forex space by large firms.
"The sum of $20,000 per SME customer per quarter can be effected by telegraphic transfer subject to completion of Form 'M' supported with proforma Invoice and the importer's Bank Verification Number (BVN)," Okorafor said.
He added that all processing banks are to ensure that the importers submit relevant shipping documents not later than 60 days from the date of the transfer.
Information posted on the CBN website defines SMEs as enterprises that have asset base (excluding land) of between N5 million and N500 million and a labour force of between 11 and 300.
Okorafor further disclosed that the Bank had begun the massive sale of foreign exchange in different sectors of the forex market this week.
On Monday, the bank intervened by offering the sum of $100 million to authorized dealers at the forex auction in the interbank wholesale window.
The Bank also sold $10,000 each to BDCs to meet the needs of low-end users in the country.
The spokesman said that the dealers in the wholesale segment will have value for their respective bids on Tuesday, April 11, 2017.
According to Okorafor, the sum of $99,544,417.45 was picked up by dealers out of the $100 million offered by the Bank during the last wholesale auction on April 6, 2017.
Meanwhile, operators in the Bureau De Change (BDC) segment have duly funded their accounts with the CBN in anticipation of picking up the dollar equivalent ($10,000) on Tuesday.
The CBN may continue its special intervention in the market with the sale of more dollars to BDCs and in both the retail and wholesale windows in the course of the week.  
Copyright Ships & Ports Ltd. Permission to use quotations from this article is granted subject to appropriate credit given to www.shipsandports.com.ng as the source.