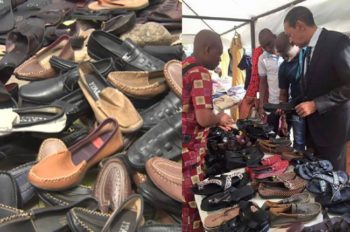 By Bolaji Akinola
The problem with the so-called buy Made-In-Nigeria campaign is that it is neither rooted in policies nor in patriotic fervour. Its mediatized and reactionary slant, as evidenced by the stage-managed titivation of Aba-made shoes and clothes by a couple of VIPs, makes its collapse like a bunch of badly stacked firewood inevitable. The campaign, which is already choking on fundamental flaws, is nothing more than a showpiece; the type gullible citizens are wont to fall for.
Nigerian leaders who embark on the so-called buy made in Nigeria campaign dubiously present the issue in a manner that suggests the citizens are reluctant or loath patronizing goods made by their fellow countrymen and women. This is far from being the case. Nigerians want to buy goods made in Nigeria. The problem is that desired goods are either not readily available or are not available in good quality because the operating environment in the country mercilessly asphyxiates production.
Small, medium and large scale manufacturing concerns in the country are caught in the web of daily struggles to churn out affordable quality products in the face of poor roads, horrible electricity supply, poor access to the market, lack of access to finance and in instances when they are able to access funding, the prohibitive interest rates will in a matter of time consume their businesses. The nation's porous borders are also an albatross as they readily give in to cheap merchandise produced in Asia, especially China and Taiwan.
Nigeria has been consistently ranked one of the worst countries in the ease of doing business. The blame for this sorry state of affairs rests rightly on the shoulders of Nigerian leaders who delight in appropriating funds for developing public infrastructure to themselves. This is why 58 years after the colonial masters handed over the reigns of governance to Nigerians, the development of public infrastructures has suffered acute neglect to the detriment of the masses. Public service has suffered free-fall in an environment where the political elite has elevated self-interest above all. Yet the politicians are quick to draw analogy with other countries, but they conveniently forgot that the politicians in those countries behave differently.
A fitting example is the United States. As U.S. President Barack Obama's eight-year tenure ended last Thursday, the Joe Biden example resonated around the world. Joe Biden had been in public office for 43 years. He was elected into the Senate at 29. Served in the Senate for 35 years and for 8 years as Vice President. Yet when his son, who was Attorney-General of Delaware, needed money for cancer treatment, he could not raise it. Beau Biden was an Iraq war veteran who served in the U.S. Army before he became Attorney General. The senior Biden had to consider offering his house for sale to be able to pay for the medical care of his son. This was after Beau had spent himself out. It took Obama to stop Biden from selling his family house. Obama, Biden narrated, pushed back vehemently on the thought of Biden and his wife selling their home in Wilmington, Delaware.
"He got up and he said, 'Don't sell that house. Promise me you won't sell the house,'" Biden narrated. "He said, 'I'll give you the money. Whatever you need, I'll give you the money. Don't, Joe — promise me. Promise me.' I said, 'I don't think we're going to have to anyway.' He said, 'promise me,'" Biden recounted.
Can you imagine the sitting Vice President of the world's most powerful country, and a man who has spent 43 years in public life, contemplating selling his house to cater for a son's need? Compare this to Nigeria where lawmakers and those in the executive arm of government literally swim in billions. They are so rich they bury some in septic tanks.
The point here is that politicians in sane societies don't see their positions as opportunities to loot their countries dry and impoverish the people. They go into office to serve, to improve public access to health and education; provide good roads, water, electricity and the likes. The reverse is the case here. Our leaders steal public money to buy big cars, build houses they will never live in, line their wardrobes with imported designer shoes, clothes and all manners of accessories with which they oppress the masses they were appointed or elected to serve. They then turn around to mouth 'buy made in Nigeria'.
The political elites are the real enemies of made in Nigeria goods. Their buy made in Nigeria campaign is a farce. The politicians should stop stealing so that there will be money in the public treasury to develop critical infrastructures that will support local manufacturing. Once good quality and affordable goods are made locally, nothing will stop Nigerians from buying.
Copyright Ships & Ports Ltd. Permission to use quotations from this article is granted subject to appropriate credit given to www.shipsandports.com.ng as the source.