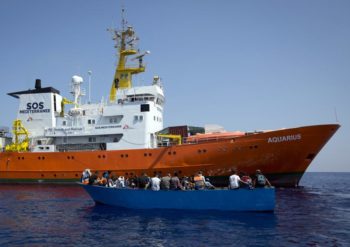 Rights groups on Sunday called on European governments to tell a charity ship where it can dock and let more than 140 migrants rescued in the Mediterranean disembark in safety.
The Aquarius, run by Franco-German charity, SOS Mediterranee, and Doctors without Borders (MSF), rescued 141 people in two separate operations off the Libyan coast last week.
The boat had just started heading north on Sunday toward Europe when Libyan coastguards called it back to pick up 10 migrants spotted aboard a small fiberglass boat.
As that rescue was underway, SOS Mediterranee and MSF asked for guidance on where to take those they had saved.
"What is of utmost importance is that the survivors are brought to a place of safety without delay, where their basic needs can be met and where they can be protected from abuse," said Nick Romaniuk, search and rescue coordinator for SOS Mediterranee.
The Aquarius has operated in the central Mediterranean since early 2016 and says it has helped more than 29,000 people in distress, many of them African migrants, who, until this summer, were brought swiftly to Italy without any incident.
However, when a populist government took office in Rome in June, it immediately shut its ports to all NGO boats, accusing them of encouraging illegal immigration and helping human smugglers — charges the charities deny.
In June, the orange-hulled Aquarius picked up 629 migrants, including scores of children and seven pregnant women, but first Italy and then Malta refused to let it dock, provoking a row within the heart of the European Union over immigration policy.
Spain eventually agreed to take in the boat, but there was no indication of where the Aquarius might head on Sunday, with Malta immediately refusing it access and Italy saying at the weekend it would not be welcome at any of its ports.
SOS Mediterranee and MSF accused the Libyan coastguard on Sunday of endangering lives by not telling the Aquarius there were boats close to it that were in distress. They also said other ships in the area had apparently ignored the migrants.
"Ships might be unwilling to respond to those in distress due to the high risk of being stranded and denied a place of safety," said Aloys Vimard, MSF's project coordinator on board the Aquarius.
"Policies designed to prevent people from reaching Europe at all costs are resulting in more suffering and forcing those who are already vulnerable to take even riskier journeys to safety."
More than 650,000 migrants have come to Italy's shores since 2014, but the numbers of new arrivals have plunged over the past year, with Rome encouraging the Libyan coastguard to carry out most of the rescues.
Agency Report