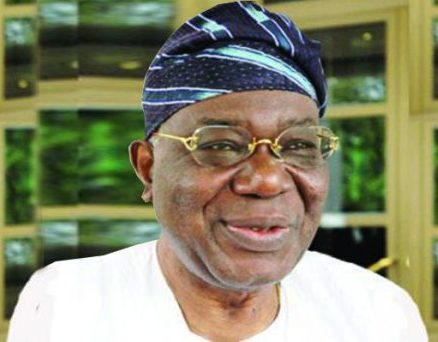 Ogun State Government last night debunked the rumoured death of the former Head of Interim National Government, Chief Ernest Shonekan.
The rumour had gone viral on social media that the British-trained Nigerian lawyer, industrialist, politician and Chairman of APM Terminals Apapa had passed on.
The Secretary to the State Government, Taiwo Adeoluwa described it as "a lie from hell". 
"It's a lie from hell. Baba is alive", Adeoluwa said on Tuesday night.
Also speaking, the Alake and Paramount Ruler of Egbaland, Oba Adedotun Aremu Gbadebo said Shonekan was alive.
In a statement signed and made available to newsmen by his spokesman, Layi Labode, Alake said both the Personal Assistant (PA) and Media Aide to the elder statesman had denied the rumoured death.
The statement reads: "However, I have just spoken with Chief Ernest Shonekan's Personal Assistant, Mr. Dickson who refuted the story.
"Mr. Dickson also disclosed that the Ogun State Governor, Senator Ibikunle Amosun, had phoned him and he (Dickson) confirmed to him that Chief Shonekan was alive.
"Also a Media aide to the Babasale of Egbaland, Mr. Gbenga Fasina, said that Chief Shonekan was alive. We shall keep you informed if there's any development."
Chief Shonekan served as Head of the Interim National Government (ING) after General Ibrahim Babangida hurriedly left office on August 26, 1993. The ING was however short-lived as it was sacked by late General Sani Abacha on November 17, 1993 – less than three months after its inauguration.